How do I make my myspace public? I go to account settings and there is no option of making my myspace public.. what do i do?
I can't tell if you have a teen account, in which case everything I write here might well be incorrect (I don't have an under-18 account to test with, alas), but if you have a regular MySpace account, it should be straightforward for you to make your profile public.
Start out by logging in to your MySpace account and clicking on "HOME" on the top menu bar, if needed, so that you're looking at: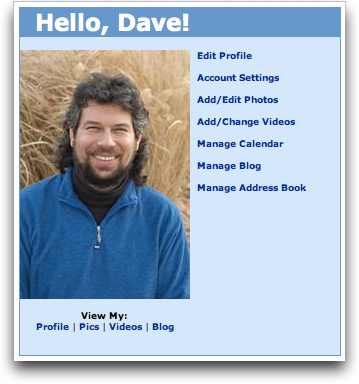 (obviously, you should see your picture here, not mine!)
Click on "Account Settings" and you'll see a pile of different settings you can tweak. The one you want is labeled "Privacy Settings", as you can see here: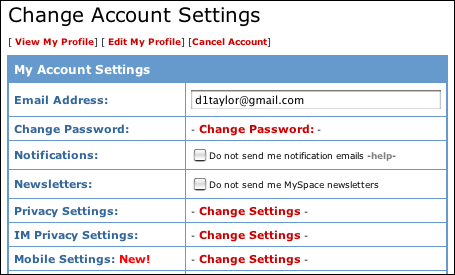 Click on the "- Change Settings -" immediately adjacent to the Privacy Settings and you should see a raft of different options you can fiddle with or modify: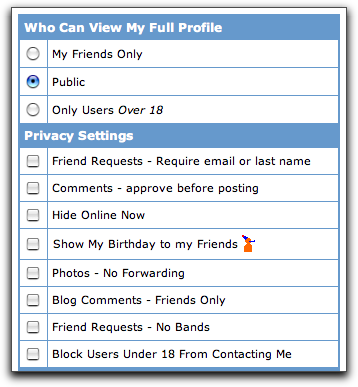 The top section is where you will want to change your preferences to make your profile fully viewable by the MySpace public at large. Select the best option for you, scroll down to the bottom of that page, and click on "Change Settings". That's it. You're done.
Now, while we're talking about MySpace, don't forget that I am always happy to get more MySpace friends, so check out
my profile on MySpace
and if you need more help, I have lots and lots of
MySpace Help
here too.