Now that I've moved from iCal to Google Calendar (see Import iCal to Google Calendar) I now need to figure out the second step: how do I mark this calendar shareable so that the rest of the people in my office can view it and add events, as needed?
Glad that first article helped you out! It pushed me into using Google Calendar too and now I'm quite pleased to be able to access my calendar from anywhere, rather than worrying about having current printouts and such, a big win! My partner wants to gain access too, however, so let me show you how I set it up to give her access and you'll see how to do the same for your colleagues too.
To accomplish this, log in to your Google Calendar page and click on the small "manage calendars" link on the bottom left of your screen. You'll get to the following: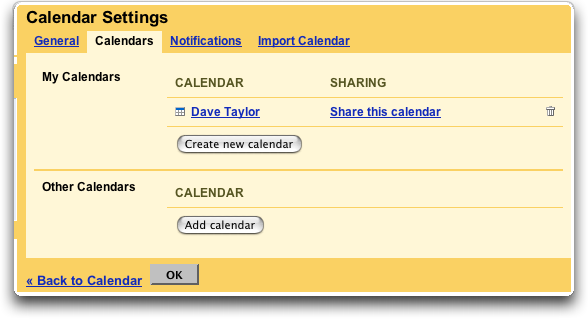 Click on "Share this Calendar" and you'll see that there are a couple of different ways you can configure sharing on your calendar:


Since it's my personal schedule, I am not going to be sharing it with everyone, but you can see that you can choose to share all of your information on this calendar (remember, you can have multiple calendars on the same account, and each can be shared differently, so you could easily have a "public" calendar with just your public events). You can also choose "free/busy information" which is very cool: they'll see what times you've blocked out, but won't be able to see the actual details of each event, giving you a nice level of privacy.
But I'm going to be sharing with specific people, so I need to add a new person. I'll type in their email address and specify one of the four possible choices from the pop-up menu: make changes AND manage sharing, make changes to events, see all event details and see free/busy information (no details).
Since I want my partner to be able to add events to my calendar, I'm going to give her "make changes to events" which, confusingly, is how you let them add new events.
Once I choose "Save" I am then asked whether I want to invite that person to Google Calendar, a step that I don't believe is necessary for them to access my own calendar:


I chose "Don't Invite' and am dropped back onto my own Calendar without further indication that it worked, except my calendar is a bit wonky, missing some items and with others incorrectly marked. A quick refresh solves the problem and I'm done.
Connecting to a Shared Google Calendar
When my partner connects to the Google Calendar area, she sees a Google Account login but will actually need to click on "Create a new Google Account", at which point she'll enter her email address and pick a password:


Fill in these fields, add some additional information to get a Google Calendar account (maybe I should have just invited her to join with that window prior after all!). A quick email verification and she's in!
Now she needs to find and connect my calendar to her own. This is done as follows…
She needs to log in to her own Calendar account, where she'll see: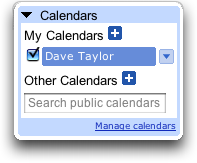 Click on the ~ez_ldquo+ez_rdquo~ adjacent to "Other Calendars" and now she'll see: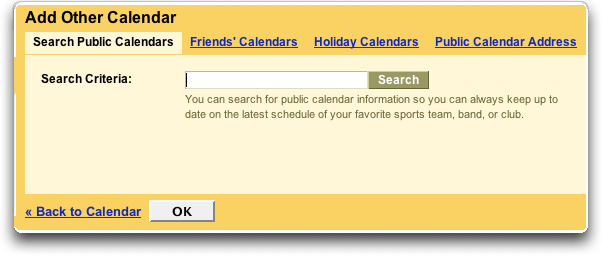 The tab "Friend's Calendars" is what we want. Click on that and now she can see: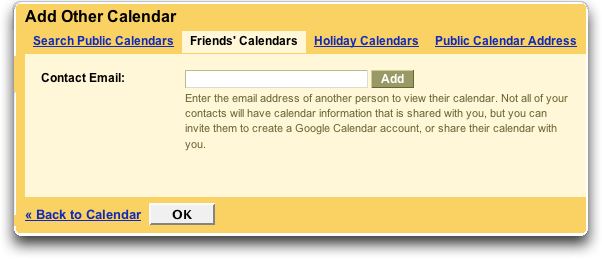 At this point she enters my email address and clicks on "Add". Without further ado the small window on the left side of the screen now suddenly has a second entry in it:


There I am, and if she now clicks on my name, she can see all of my events on her calendar view. If she'd like to add an event to my calendar she can't use "Create Event" or "Quick Add" but rather the small drop-down triangle adjacent to my name, which reveals: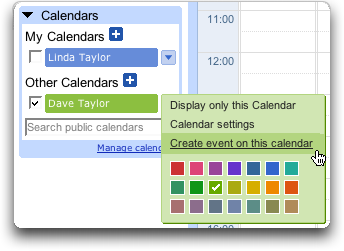 That's all there is to it. Now we both just have to bookmark our calendar pages and we're good to go. For bonus points, your colleagues will have to share their calendars with you too, as my partner will have to share her calendar with me, but you can now see how to do that.
Welcome to the 21st Century! 🙂