Have a hi-fi system or even some favorite speakers that lack wireless capabilities? Or do you have a bluetooth speaker that just works poorly? Enter Google Chromecast Audio, an under $35 device that makes any speaker or stereo wireless. Via Wi-Fi!
Look around most homes and you'll see stereos, clock radios and even an old-school hi-fi system with separate receiver, CD player, and maybe even an LP player. Great stuff, but how do you get your music to these devices? How do you listen to Pandora, Spotify, Google Music or even iTunes when the device was created years before modern wireless technologies were invented?
Heck, if you have teens, there'll also likely be a bluetooth speaker or two around, allowing for better music listening than the tiny smartphone speaker of their Android or iPhone. But bluetooth has plenty of problems and interference and crackly connections are more common than most people realize, particularly if you have lots of other electronics.
That's why Google Chromecast Audio is such a terrific device. For only $35 — on sale at Best Buy for $30 —  it not only turns any of your devices into modern, wireless systems, but you can even sync up multiple Chromecast Audio units and have synchronized multi-room music. Like a Sonos but at a tiny fraction of the cost.
If you've never seen a Chromecast Audio, it's like a tiny frisbee about 2″ across, as you can see in this photo: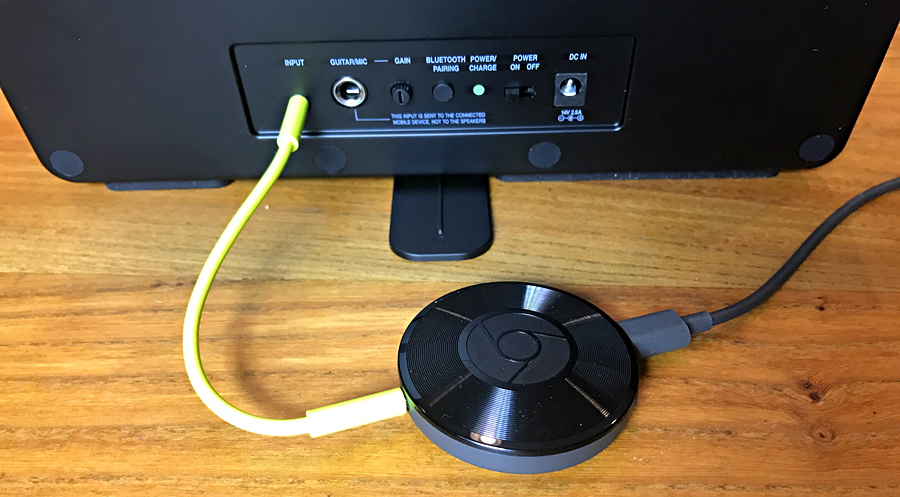 In the above, it's hooked up to a bluetooth speaker that sporadically loses its audio connection. Plug in the Chromecast Audio to the AUX input, however, and it works without a glitch for hours. The Chromecast Audio unit comes with a 3.5mm adapter, as shown, but you can also order an RCA-jack adapter or an Optical adapter instead, depending on what your stereo requires.
Streaming music to one of the devices — or multiple if you want to use Multiroom audio — is a breeze: Google has built Chromecast support into a lot of its software, including the Chrome browser, even on the Mac. In fact, Chrome for MacOS has a "Cast…" option on the main menu that then pops up a list of your Chromecast compatible devices, as shown here:
In my house we have a Vizio UHD television with built-in Chromecast, a Google Home called "Bedroom Home", and a Chromecast Audio unit called "Chromecast iLoud". To send audio to the Chromecast Audio unit is as simple as choosing that in the Cast To menu, whether I want to have better sound on a YouTube video, Netflix show or I'm just listening to audio samples from Audible.com.
And it's exactly the same if I'm on an Android device too. On my LG V20 phone, I can click "Cast" in Google Play, for example, and the same three options show up:
Wondering what apps support Chromecast? You can actually search for Chromecast-friendly apps in Google Play: Google Chromecast Friendly Apps.
The only downside with the Chromecast is that Apple hasn't incorporated Casting into its software, so you can't send music directly from within iTunes on your iPhone or Mac system. There are third party solutions, but it's more clumsy than on Windows computers or Android devices. But that's it, and particularly at the price, it's a splendid upgrade that even your parents can figure out how to use!
Check it out for yourself: Google Chromecast Audio at BestBuy.com
Disclaimer: The reviewer has been compensated in the form of a Best Buy Gift Card and received the product for free