Just upgraded to iOS 11 and I like it a lot, but I'm running out of space! My brother told me that text message attachments stick around forever, so how can I delete them to make more space on my iPhone?
Your brother is correct that if you have your iPhone set up so that your text messages stay around forever, well, the photos, videos and even audio snippets are probably going to stay around forever too. If he sends you lots of funny movies of dad snoring on the couch and mom talking to herself while baking, well, that's space you'll never recover. Earlier versions of iOS made it tricky to see if your text message attachments were taking up any meaningful amount of space, but iOS11 has some terrific, beefed up tools for managing your space and content.
Of course, text message attachments are probably not the only place you're wasting space. For lots of people it's videos. Did you know that videos can become quite huge? A few seconds is no big deal but if you're recording an entire concert, that's just a huge amount of data and is something you'll want to offload onto your computer, a backup device or even a cloud storage system as soon as you can. iPhones, like all other digital devices, go a bit bonkers when they run out of space. It's not pretty.
Let's stick with these tools, however, so you never get into this situation. To start out, go to Settings > General. Lots of options, as shown:
See that entry near the bottom – iPhone Storage – ? That's what you want. Tap on it.
It'll show you a handy summary of used and available space and color code what's using up the space:
You can see that my media is using up the lion's share of all my storage space, but that I'm only using, in total, 99.6GB of the 128GB available on this iPhone 7. Space to spare, for now.
Below you see two options in the Recommendations section: iCloud Photo Library and Offload Unused Apps. Those are two of a number of different options, but we'll come back to that in a moment. For now, just notice the little "SHOW ALL" label.
Swipe down a ways and you'll see a list of all your apps, sorted by how much space they're consuming on your iPhone:
I admit it, I have a lot of music on my iPhone. A lot. Like 61.3GB worth of music! By comparison, the 6.9GB of photos seems paltry and the 1.8GB of space used by iMessage isn't even worth stressing about. Except it's not going to be long before that huge amount of empty space is mysteriously filled up, so in fact it's always smart to pay attention to this.
In particular, notice TV and iMovie: I've never launched either but between them that's more than a Gig that's consumed. Wasted, really.
But let's back up. Remember that "SHOW ALL" link I referenced? Go back to the top and tap on it and a bunch of additional space management recommendations will show up:
The one you want to check out is "Review Large Attachments". That's what your brother's talking about. You can see above that I'm consuming a rather impressive 1.84GB of space with my own iMessage attachments.
Tap on it to see what's happening: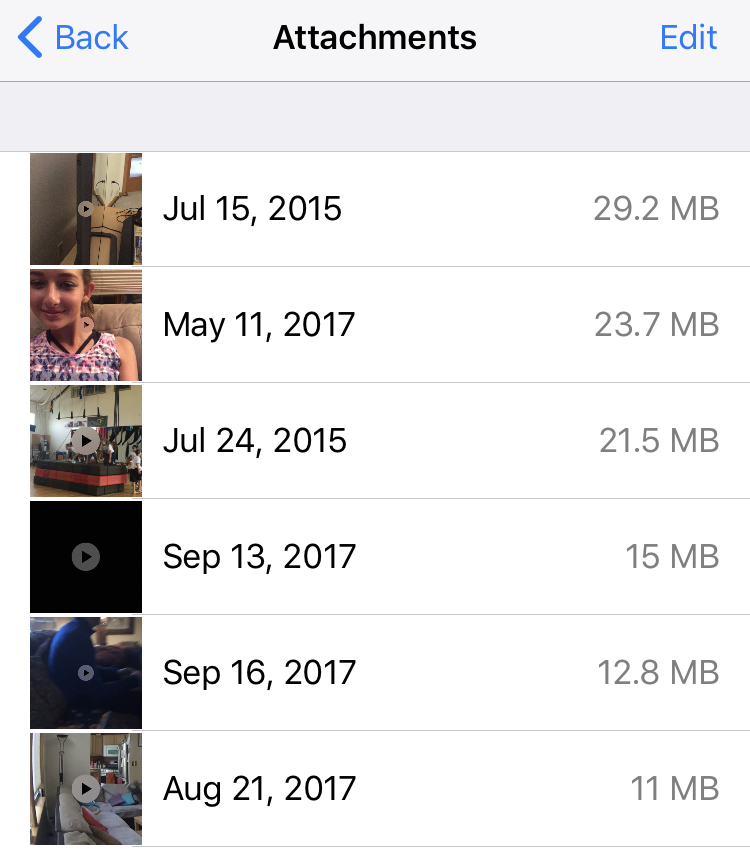 Here the attachments are again sorted by size: biggest on the top. They're typically videos and while any individual one isn't very big, they add up! To delete any of them you can simple swipe left:

That's all there is to it. Now go back and check out some of the other options and particularly pay attention to the apps that consume the most space. Some are just sloppy or poorly written too.
Good luck. And +1 for your brother for knowing about this oft-forgotten storage problem.