With four kids on my cellphone plan, it's surprising how often we end up going into the local AT&T store for something or the other. And every time it's a long wait. Is there any way we can make an appointment in advance like at the Apple Store?
My son and I were standing in the local AT&T Wireless store in Boulder, Colorado, looking at five walk-in names ahead of us on the chart, and wondered the same thing, just before we left after deciding to go back an hour later. Why would it say "walk-in" if there weren't other types of appointments that were scheduled?
While sitting at dinner that evening, we did a few Google searches and found out that yes, just like the Apple Store, you can indeed make an appointment at an AT&T store anywhere in the United States online, either through your Web browser on your desktop computer or with a mobile device. Not sure that there's the ability to make an appointment within an hour or two of the current time, but if you have a bit of patience – or your children do! – then it's a great alternative.
What's odd is that AT&T doesn't make it easy for you to find the appointment scheduler on the Web site…
Look along the top bar when you're at wireless.att.com and there's no indication you can make an appointment:
Scroll down to the very bottom of the home page, however, and in the "small print" there's the link you want:

Click on "Make a store appointment" and you'll end up here:
The whole process from here is quite easy now that you know where to look, but let's step through the process anyway. To proceed, click on "Make an Appointment" under the calendar icon.
You'll need to specify consumer/business, then choose why you want to come in and get help. I imagine it's not that big a deal which you choose, but for their benefit, choosing something that's close to your reason is obviously beneficial: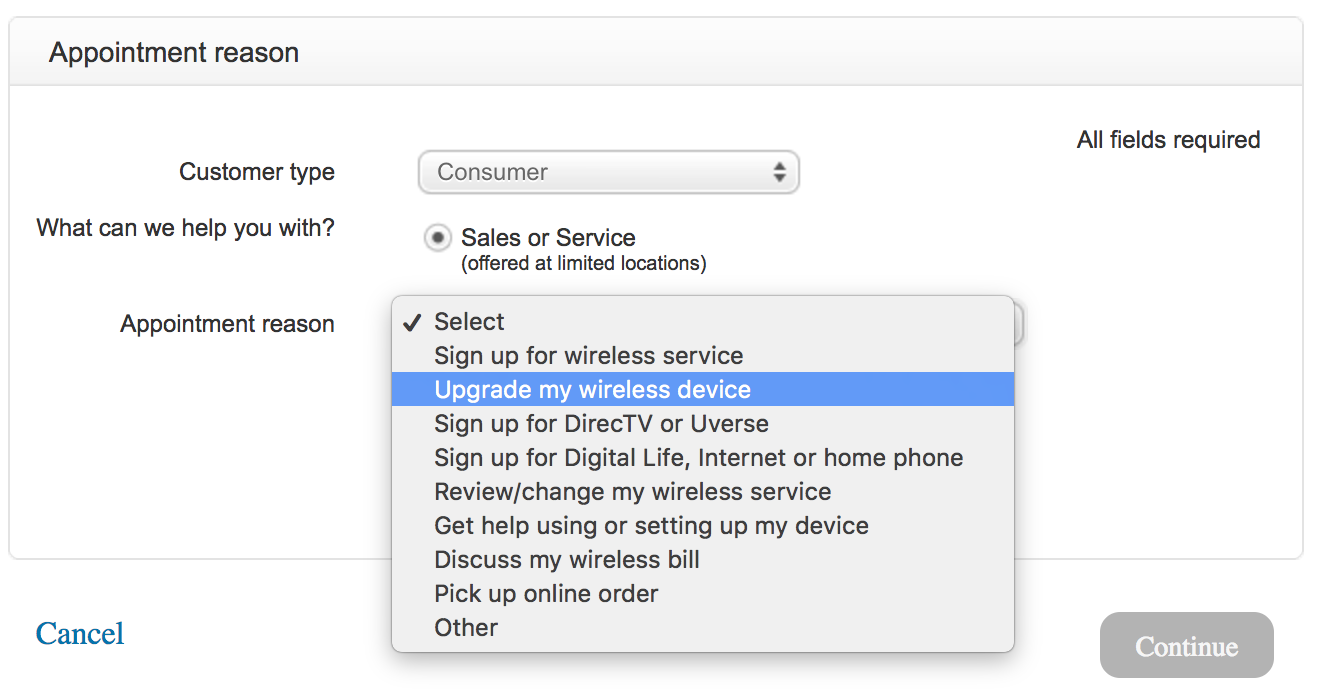 All looks good? Click on "Continue" to, well, continue.
The next step is to find an AT&T Wireless store near you. This is most easily accomplished by zipcode:

I'll search New York City with zipcode 10023, and it finds stores in my zipcode!

The first store, at 2066 Broadway, looks good so I'll choose it for my upcoming appointment with "Select this store".
Now the fun part, choosing a specific appointment: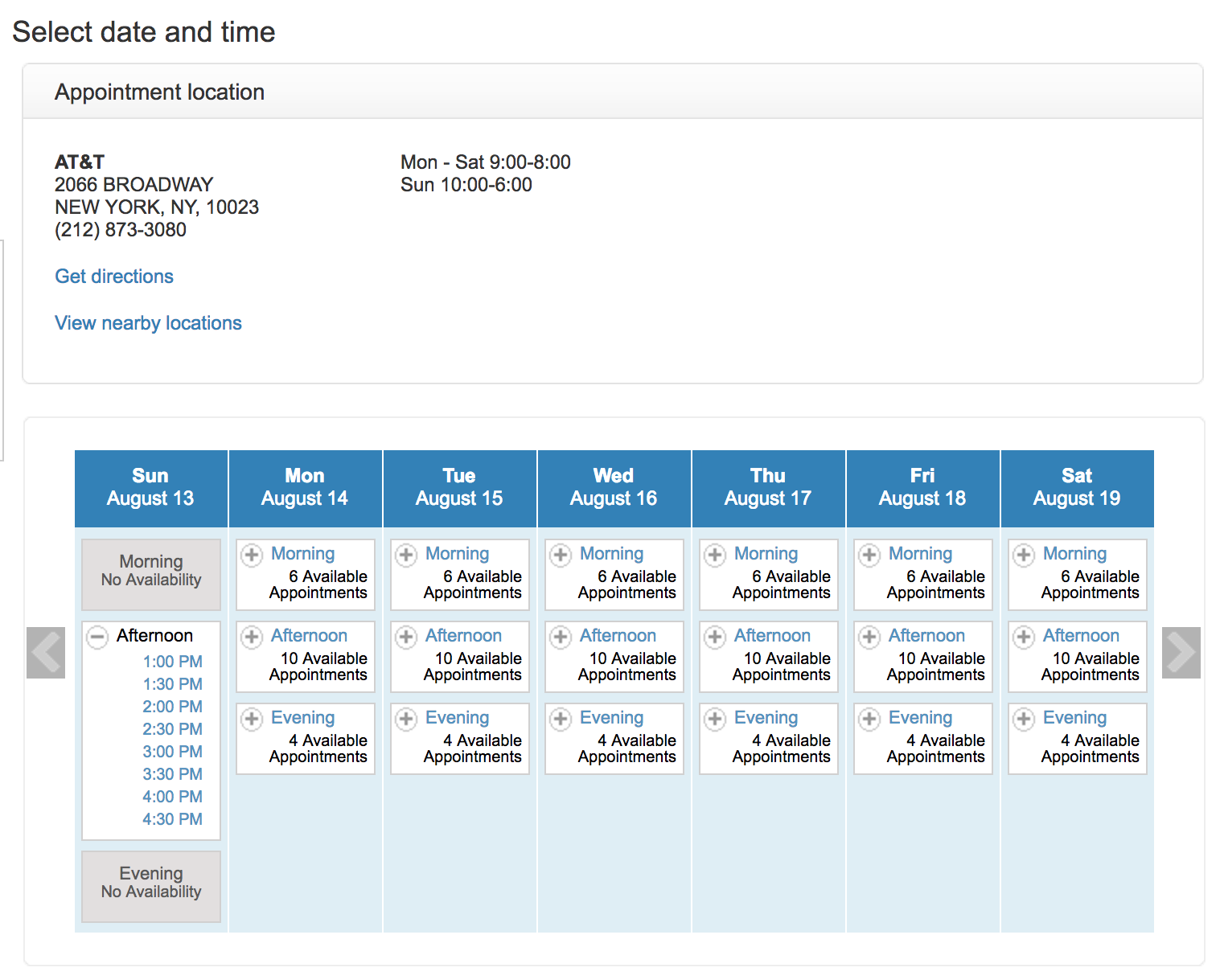 There are appointments today, Aug 13, but none until 1pm. Still, let's grab that first available time! Simply click on it and it'll be time to finally identify yourself (if you haven't already logged in to the system):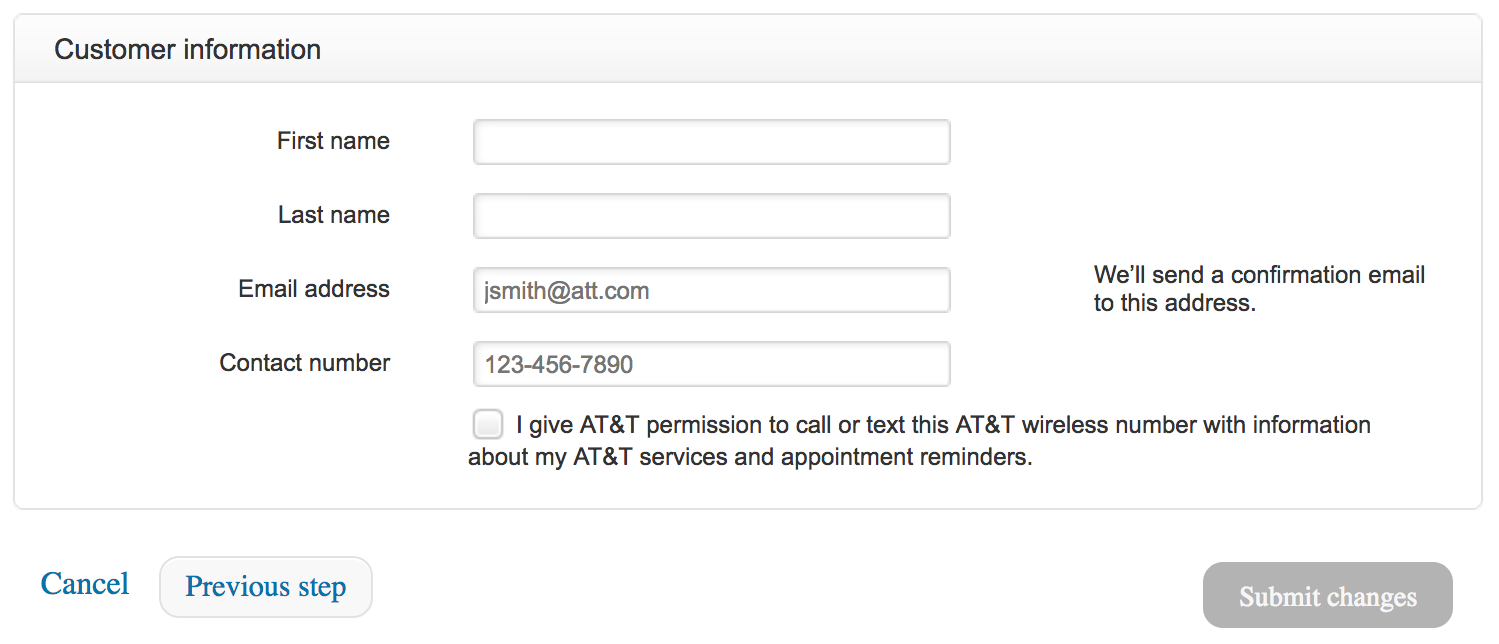 You're done and ready for your appointment. In fact, AT&T will now send you a text message confirming the appointment, which is darn handy of them: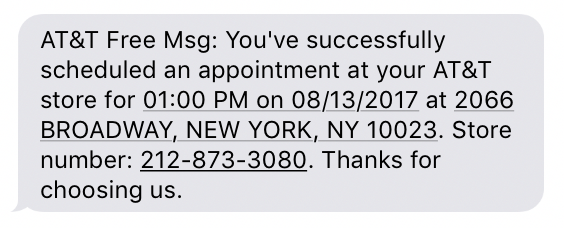 And now you know the secret to making appointments at the AT&T Wireless store before you walk in the door!