I'm in on the beta program and am eager to start trying out Mac OS X Yosemite (10.10) but am very aware that it's a beta release. So I want to install it on a removable USB flashdrive. Doable? And if so, how do I proceed?
You're a smart cookie, and I like that. With a public beta, it's inevitable that people are going to leap onto the bandwagon so they can have a preview of Mac OS X 10.10 "Yosemite", just to find that there's a reason that "beta" is in the name at this point and have things fail to work properly or even at all. There's also going to be all sorts of extra system logging for debugging purposes so performance isn't going to be as snappy as people would prefer and there are issues of upgrading mailbox formats, bookmarks, preferences, etc, just to find out that if you need to back up to 10.9 Mavericks, well, you're in a big jam.
So yes, installing the OS on an external drive or second partition or similar is very smart. Boot up into Yosemite to play, experiment and test, then go back to the stable, shipping Mavericks for your production work.
There are two problems with this strategy, however: First is size. General rule of thumb for a modern operating system install is to have at least 30GB of space. How many of your USB drives are that big? Of course, you can use an external hard drive too, and the process is similar, so that's not a complete show-stopper.
The other problem with using an external drive is making sure that it's formatted correctly. And that's what this article covers.
For this task, I'm using a lovely Kingston 64GB HyperX external USB 3.0 flash drive (about $85 on Amazon).
Given your question, I'm going to assume you've already downloaded the disk image (".dmg") for the Yosemite installer. Launch it and you'll get here:
"BigHD" is my main drive on my MacBook Pro. I do not want to use that.
The HyperX flashdrive is plugged in so I'll click on "Show All Disks…" to choose it:
But, hmmm, it's greyed out, indicating it's not a selectable option. That's not good.
Fortunately, clicking on it reveals the problem: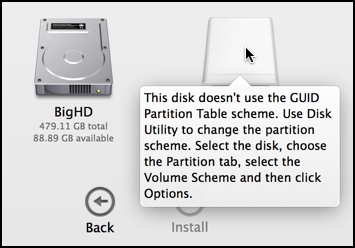 Alright then, that's what I'll do.
Find your "Utilities" folder in the "Applications" folder, and identify Disk Utility:
Really cool icon, actually. 🙂
Launch Disk Utility and choose the Kingston HyperX flash drive (or whatever other external drive you're trying to use).
Then look at the very bottom of the window where it shows all the data about the drive:

That's the "after" picture because what the Yosemite installer is looking for is the Partition Map Scheme (lower right). It must be GUID Partition Table.
If it's not — and most USB flash drives are formatted for Windows, not Mac — then you need to reformat the drive. That's done with the "Erase" tab:
As you can see, you'll want to choose "Mac OS Extended (Journaled)" and click "Erase…" when you're ready.
Note that this does wipe everything that's on the specified drive. Everything. So make sure that a) you are looking at the correct drive (reformatting your main drive is a really bad outcome) and b) that there's nothing left on the flashdrive that you might want to salvage beforehand.
Done? Good. Again, look at the info at the bottom of the window to ensure that your partition scheme is GUID. If so, good to go.
Now go back into the installer and the USB external flash drive shows up as a valid Mac OS X 10.10 Yosemite installation target: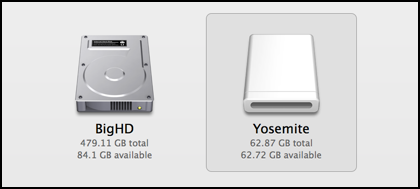 You'll know you're on the right track if the next thing you see after you choose it and click "Continue" is this:
And now, onward!
Note: I cannot share any additional images of the 10.10 Yosemite install from this point, but this does work and it's pretty straightforward, though not the fastest process.