Dave, My new client is sending me data files with a flash drive, which is great, but the drive appears to be formatted for MacOS so I can't read it in Windows. Every time I try, my PC just wants to reformat the device. Is there a solution? I'd like to be able to just read the data without a hassle!
Systems have come a long way in overall interoperability, but there are definitely still edge cases where you can find that you simply have the wrong computer for the job. Interestingly, Apple computer systems have long since been able to read and interact with Windows formatted drives (FAT32, NTFS, etc) but Microsoft's never felt the pressing need to add support for the Apple Filesystem (AFS+) within Windows. This means that you can easily end up with a Mac that can read PC flash drives (or external hard drives), but a PC that cannot read non-PC external data storage devices.
Fortunately, there are third party solutions, and my favorite of those is MacDrive 10 from OtherWorld Computing. It's affordable and does a great job of letting you work with Mac storage devices on any Windows system. Better yet, it's an easy download and install so you could be reading that client's flash drive within minutes of finishing this tutorial, no awkward email to them required.
TRYING TO READ A MAC DRIVE ON A PC
You're familiar with the problem; without any changes, your PC is going to invite you to delete all the data on the external drive and reformat it to work with Windows once you insert it into the USB port or plug in the external device: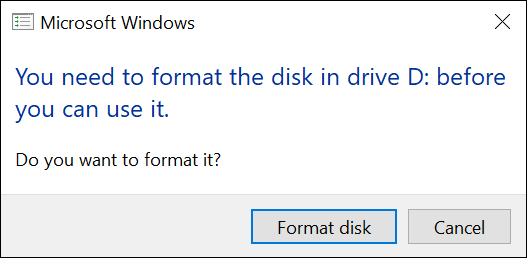 If you need to access that drive, this message is a scary one! Click on the wrong button and you're really in trouble.
Instead, click on "Cancel" and pull the drive out. Time to install MacDrive then try again…
HOW TO INSTALL MACDRIVE FOR WINDOWS
MacDrive 10 is actually easier than a lot of PC programs to install. Start by deciding if you need the MacDrive Pro version (which is a bit more expensive) or can just use the standard MacDrive program. I've opted for MacDrive Pro because I never know when I'll need the additional features. OWC sells its products through the MacSales.com Web site (a bit confusing), and you can go here to see the basic differences: MacDrive vs MacDrive Pro.
Choose one and give it a click to download:
Note that there's a couple of days free grace period with the program so you can defer buying a license if you just want to try it out. That's actually what I did for this demo!
Double click or tap on "Open file" to launch the installer and you'll find the graphical theme is a peace symbol. I imagine that the motto is "why can't we all just get along, man?" too 🙂
There aren't many questions, so chose the appropriate checkboxes and click "Install". Not more than a minute later, you'll see this:

As suggested, restart your PC and you're ready to go.
READING MAC DRIVES ON WINDOWS WITH MACDRIVE 10
You can double click to launch the program, but it also starts up automatically when you install a Mac-formatted external storage device. The main screen looks like this: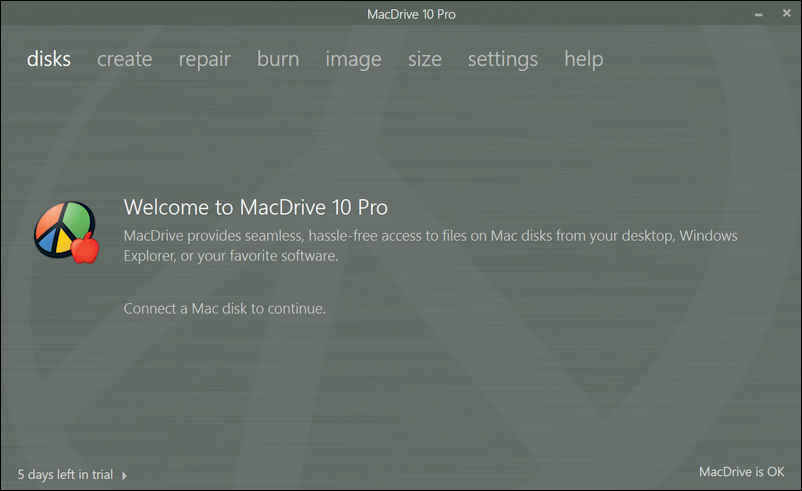 Notice that along the top are: disks, create, repair, burn, image, size, settings, and help. Yes, you can reformat a PC drive to be Mac compatible with the program. On the lower left notice "5 days left in trial". As I said earlier, I haven't yet paid for a license for the program, which works fine for a single use, but eventually I will want to pony up the cash…
Once I plug in a drive – in this instance a 4GB USB flash drive – it shows up in the app with some new options and features front and center: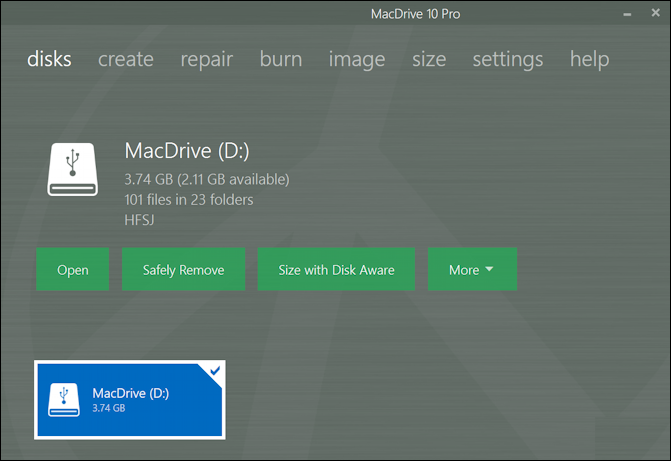 Easiest is to just click on "Open" to view the contents, grab things, and drag new content onto the drive:
As you can see, this drive contains a Word doc, an AVI movie, a JPG file and two folders of content. You can easily now access the data or even drop new content onto this window to write those files onto the Mac-formatting external drive…

It's also interesting to check out "Size with Disk Aware" which offers an intriguing view of the drive and available space:
Okay, it looks a tiny bit like a diamond ring, but still, it's darn interesting as a way to view an external storage unit.
And that's about it. Everything you need to know about MacDrive 10, a terrific addition to any Windows PC if you work with Mac data storage devices. Check it out at MacSales.com (and don't forget the 5 day free demo to try it out).
OWC MacDrive 10 and OWC MacDrive 10 Pro. $49.99 for the base version, $69.99 for the pro version.
Pro Tip: I've been writing about Mac & Windows for quite some time. While you're visiting, why not check out my Windows help area and my MacOS help area too? Thanks!
Disclosure: OWC sent me a license for MacDrive 10 Pro for the purposes of testing and to write this review. Thanks, OWC!