I'm about to upgrade my MacBook Air to run Catalina, MacOS X 10.15, and am enthused for all the updates and improvements. Except I heard not all apps will run on 10.15! How can I tell which will work and which won't?
The latest version of MacOS X goes by the name of Catalina and the numeric designation of 10.15, meaning it's the 15th major release of MacOS X [pronounce that 'mac os ten']. Lots of goodness in this latest update and OS but you're correct that it's only going to support what are known as 64-bit applications and programs. A lot of older programs are written for a 32-bit system, however, and while in previous versions of MacOS X they were supported enough that you could run 'em, Catalina is the first where they'll just be DOA.
Which leads to the very obvious question of which of my Mac apps are 32 bit apps??
Fortunately there's a handy table that will show you every single program on your Mac system and whether it's a 64-bit program [and will work just fine with 10.15] or whether it's a 32-bit app [in which case you're in trouble if you upgrade].
Here's how you find the list…
Start by clicking on "About This Mac" from the Apple menu on the top left of your system:
There's lots of interest on this summary information window, actually:
You can see that our main computer is pretty modern, a 2019-era MacBook Pro with a 2.3Ghz Intel Core i9 and 16GB of RAM.
For this task, however, you want to keep going and click on the "System Report…" button at the bottom of the window. That opens up your full hardware and software report, which is a great resource to know about anyway. It has the official data on every element and aspect of your Mac. Down the left side are a LOT of categories, but you want to scroll down to the "Software" category and the "Applications" entry: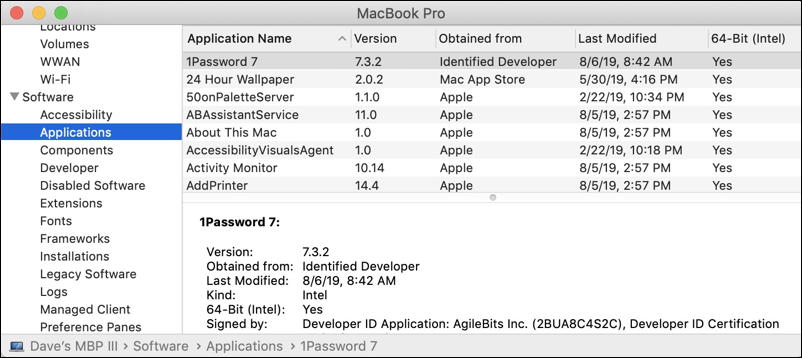 You will probably need to resize the window and possibly even scroll right to get to the "64-Bit (Intel)" column, but you can see here that the top set of applications shown are all 64-Bit compatible. Huzzah!
Problem is, there are a lot of applications on your Mac, which you'll immediately realize if you start scrolling down. Instead click on the column header "64-Bit (Intel)" to have that be the sort column then move up to where there are "No" matches, if any. For me, that's just a couple of applications:
The three apps that won't work on my system when I upgrade to MacOS X 10.15 Catalina are InkServer, Mazda Toolbox and quicklookd32. No bueno, but nothing mission critical, fortunately. Once you have your list, check with each software developer to see if there's a 64-bit update. If not? Well, you can omit upgrading to Catalina until it's resolved or, like me, figure that the affected apps aren't that important and just proceed. Certainly InkServer and quicklookd32 should both be upgrade by Apple if they are indeed components of MacOS X 10.14, right?
Anyway, that's how you can check to see which of your Mac apps won't be compatible with 10.15 Catalina. Hopefully that's a really small list for you so you can jump into all the upgrade goodness.
Pro Tip: I've been writing about Mac OS since it was Mac OS 9. Please check out my quite extensive Mac help area for lots and lots of tutorials!