What's going on? I downloaded the Mac app for my new Dash doorbell and when I try to launch it, I get "can't be opened because Apple cannot check it for malicious software." How do I get past that??
Ah yes, the dreaded "XXX can't be opened because Apple cannot check it for malicious software" error! While it may seem like a huge annoyance, it'd actually beneficial because Apple is helping ensure that random and potentially dangerous software doesn't sneak its way onto your computer and then cause problems. I know some people see this as Apple having too much control over the Mac environment (and to be fair it is a lot more of a controlled environment than Linux or Windows). I'll accept a bit less flexibility for a safer computing environment any day, however. And Apple does have well-known testing paths for third party apps so they can avoid this warning message too.
Having said all of that, you also have the ability to both pardon this one app and let it run even though it hasn't been verified or change your settings to allow a more open – and, of course, risky – computing environment on your Mac system. I'm sure it's pretty obvious in which direction I lean! 🙂
So let's have a quick look at the error and how to fix it as desired. First off, I ran into the same metaphorical wall when I was trying to install some software for a book scanning device: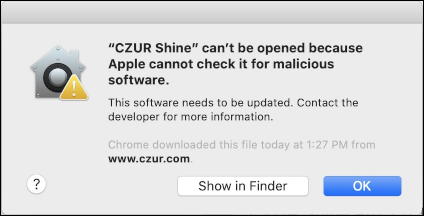 Ideally the software vendor gets sufficient complaints to fix the problem directly but if you want to run the app anyway, go to Apple > System Preferences… and choose "Security & Privacy". Because there was just a security event, you'll actually see information about it in the window itself: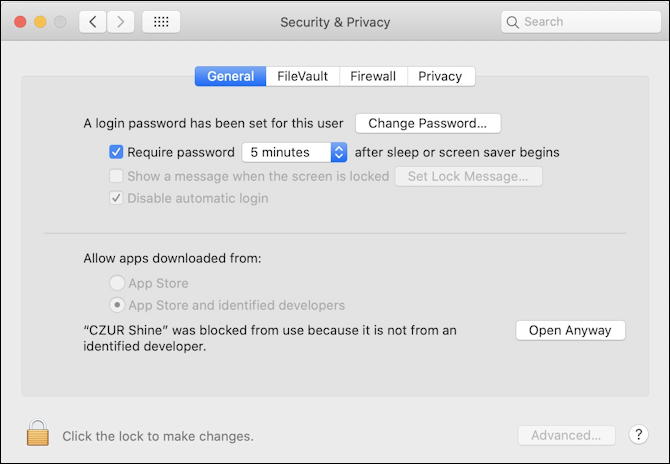 Before you enthusiastically click "Open Anyway" notice that above it is a way for you to widen the net and allow more apps to run on your computer without a problem: Instead of the default of "App Store" only for downloads, change it to "App Store and identified developers." That doesn't solve the problem with the CZUR Shine app, but that's what the "Open Anyway" button is for. Click on it!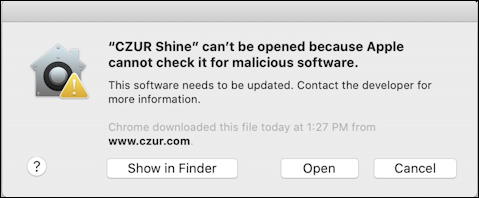 Basically the same window as earlier, except the "Open" button has appeared. Useful! Click on that if you're 100% sure the app is safe and it'll fire up and show you its first splash screen. Note that once you've launched it, you'll never see this warning again so it fixes the problem for future use and if the app updates itself internally, it'll work across versions too.
Done. Not too hard, really.
Pro Tip: I've been writing about the Mac for eons. Please check out my extensive Mac help library for hundreds of useful tutorials!