Okay, so I turned on 2-step verification, which is cool, but now I can't log in to my Google Voice app on my iPhone. This is not good, Dave. How do I fix it??
First off, in the immortal words of Douglas Adams in his brilliant Hitchhiker's Guide to the Galaxy, don't panic.
This is all fixable, and this is what Google meant when it talked about "application specific passwords". I bumped into this problem too and here's how I fixed it so I could get into Google Voice on my iPhone.
Oh, and yeah, it's a pain in the booty, but it's only something you have to do once.
Start out by going to your Google Accounts page. On it you'll see:



You want to click on "Authorizing applications & sites", which brings you here:


Yep, you need to log in again just to make sure someone doesn't borrow your computer and create some of these application-specific passwords on your behalf. Do it, it's a smart step. Now you'll see the following:



Not what we're interested in, but if you go down a bit further on the page, you'll see what we seek: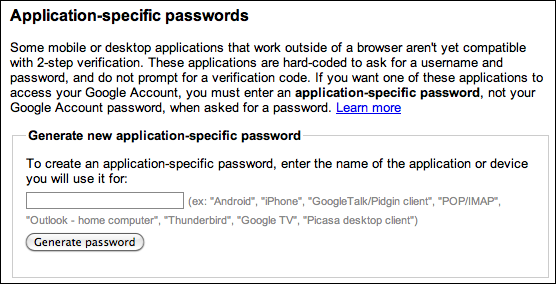 Pretty easy from here. Type in the name of the app, your device name, whatever, and it'll generate a temp password for you. I'll just use the app name:



Click on "generate password" and it shows a nice, complicated password:


Now with that displayed, turn back to your iPhone and bring up Google Voice. It looks like this: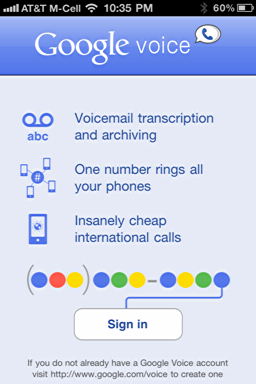 Proceed to the login screen by clicking on "Sign in" and now, when you go to enter your information, use the temp password not your usual password: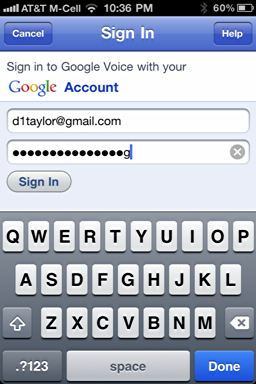 Ready? Tap on "Sign In" and…
You're in!