I've heard that most Android smartphones included the ability to listen to FM radio stations too. Very cool. But how do I get started?
There are so many choices for streaming music and audio content that it seems rather retro to want to listen to over-the-air FM broadcast channels, but then again, if you have zero cellular coverage and no Internet access, the FM tuner in your Android phone will continue to work. In a crisis situation or if you're just miles from anywhere, it's a logical option and definitely good to know about.
Still, whatever channel you want to hear is probably also live streaming through I Heart Radio, TuneIn or one of the many other online streaming services. Better yet, a streaming version of your local radio station will give you all the benefits of local news, weather and traffic reports, local concert updates, etc, but without the static and annoying drop-outs of over-the-air FM.
You still want to know? Okay, okay, let's go through the steps of using the FM Radio app included with Android!
To start out, find and launch the app. If you don't have headphones plugged in, you'll see this: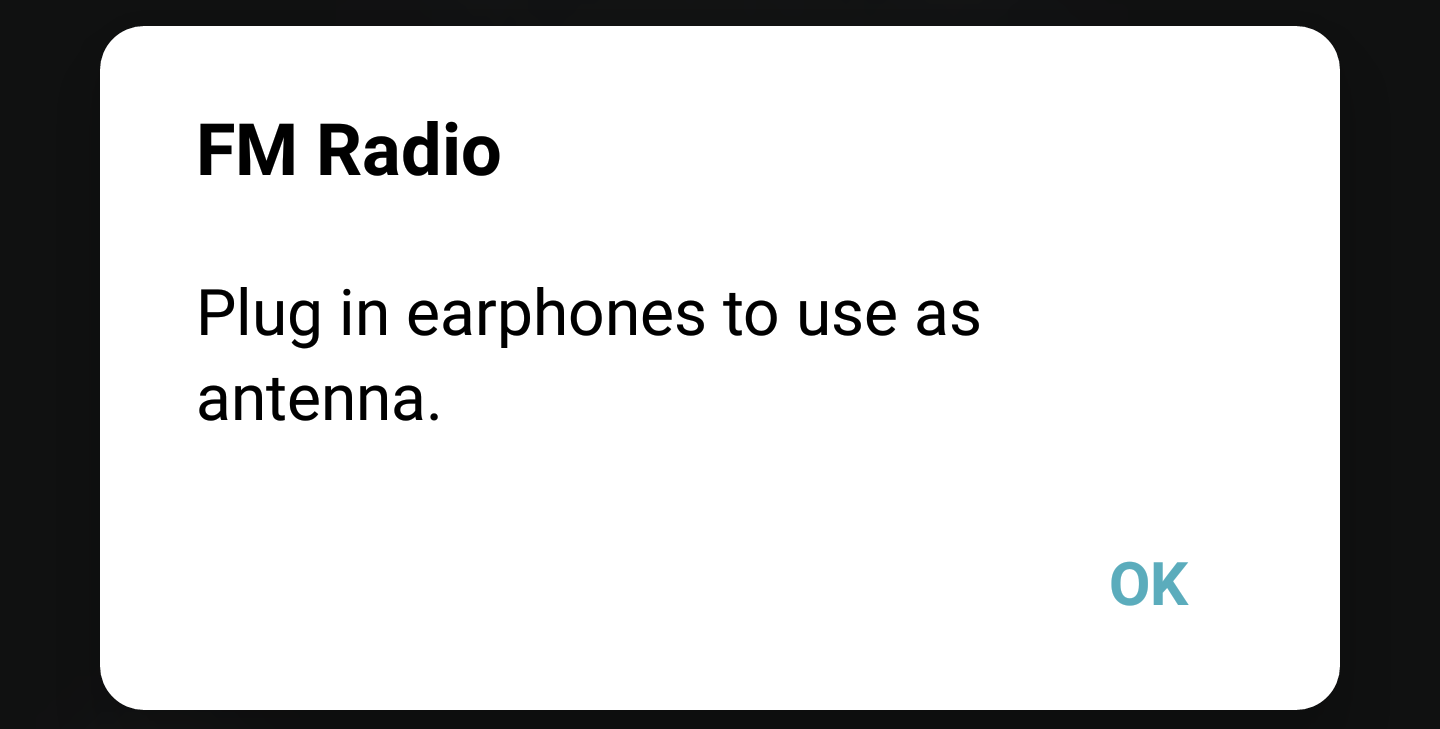 Turns out that it needs the wire to be able to pick up FM radio, so if you're using bluetooth you might have a slight snafu. One possibility: plug in earbuds as an antenna and make sure that the audio output is your bluetooth device.
Once you have an antenna wire available, launching FM Radio will reveal the following cool design layout:
You can rotate it to landscape mode so I'm going to do that so the screen shots are easier to understand. A 90-degree turn and it's reoriented! Now simply use your finger to drag the red "tuner" line to a known radio station. For me, that's 97.3 KBCO:
Notice on the top left that if the radio station you've tuned is transmitting additional text information that'll be displayed, including the current track playing ("Melt with You" by Modern English) and the name of the station.
If it's a favorite station of yours, double-tap on the ~ez_ldquo+ez_rdquo~ along the bottom associated with the open "slot". I'll save KBCO as favorite #1 doing this very trick and now it not only shows up along the bottom, but the little star adjacent to the frequency fills in too:
The microphone icon on the left allows you to access volume, and the tiny speaker in the box on the top right is a quick-mute button. Me, I'd reverse the two, but that's how it works. Also, if you tap on the circle in the middle of the tuning dial you can turn the radio "on" or "off" quickly.
"FM Radio" has a built-in station scanning feature too, which is nice. Access the additional features by tapping on the three dot tower on the top right A menu appears:
A tap on "Scan" and it'll go through the entire FM dial, trying to identify every frequency where there's actually a broadcast. You'll see this as it works:
When it's done you'll have a list you can access any time with the "Stations" menu option:
My experience was that about half of these stations were dead, but your results might well be different.
That's about it for the "FM Radio" app included with Android. Good news, though, there are tons of different FM tuner and listening apps in the Google Play store. Just search for "FM tuner" to see!