I was wondering if there's any way to listen to FM radio stations on my Windows computer? I know I can go to individual Web pages, but isn't there a better way?
You ask a great question, because while there are a lot of radio stations that offer live streaming, it is a pain to go to each Web site to find what you want, and most don't have an attractive player app or similar. There's also really no way you can find a great new station because it's hard to know about radio stations in other cities, let alone other countries. There are directories of streaming stations in some apps, like I Heart Radio from broadcast company Clear Channel, but I prefer the independently owned TuneIn.
And here's an impressive stat: TuneIn has over 100,000 broadcast radio stations in its directory and four million on-demand programs and podcasts from around the world. Better yet, it's already included in Windows and probably is just sitting on your computer, ready to launch and explore!
So let's do just that; go to your Start menu and fire up TuneIn.
Tip: If you don't have the app, check the App Store or just go to TuneIn.com to download.
You can see the icon on the top right here, on this Microsoft Windows 10.1 system.
A click and the app launches, just to immediately request permission to access your current location:

Why does the program need to know your location? So that "local" stations can match your region. Don't worry, you can still find a new favorite in Maui, Montreal, Managua, or Miami too. Click on 'Yes' to proceed and the main screen will pop up:
The app scrolls both horizontally and vertically: Move along a category and you'll see more options of that nature, but scroll down and you'll find that there are tons and tons of different categories too, including lots of podcast programming too. It's quite nicely done, actually, and easy to navigate.
To see your local channels, click on "Browse" from the menu on the left side (you can ignore setting up a profile if you want; it'll work just as well without it).
There is an option to pay for premium content, but I just ignore that. You can look into it and perhaps you'll find something that is a great match, I just feel like since there's so much free content available, there's no need to add premium to the list.
The second option is what I want: Local Radio. Since I granted TuneIn permission to know my location in Boulder, Colorado, let's see how well it does with finding local channels: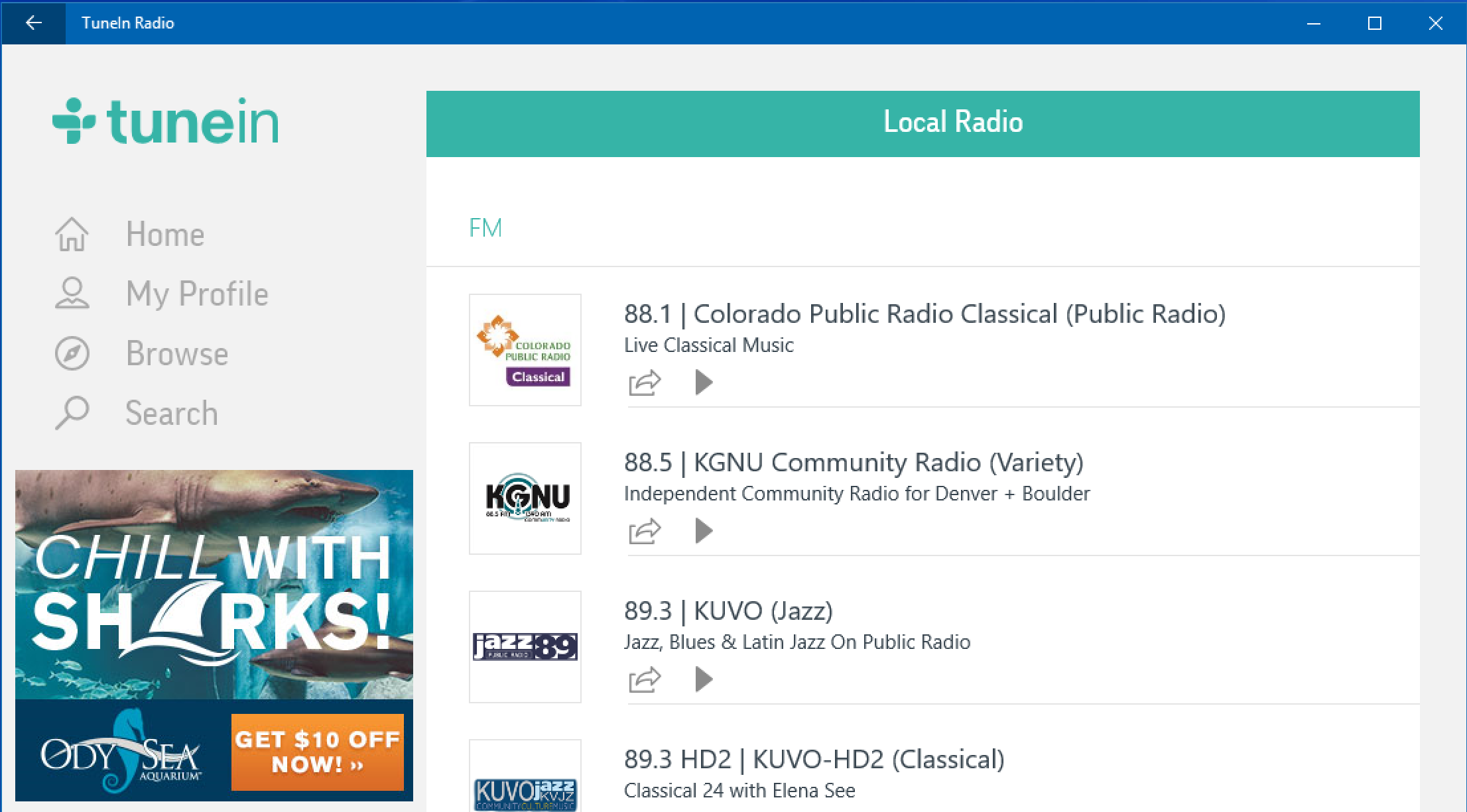 Not only does it show an extensive list of FM and AM radio stations in my local Denver, Colorado region, but it also offers up some of the HD channels too that are otherwise only accessible with a modern HD tuner. Nice.
I'm feeling pretty chill, so I'll click on 89.3 KUVO, our fantastic local jazz channel, and listen. Here's the player that TuneIn launches for this station: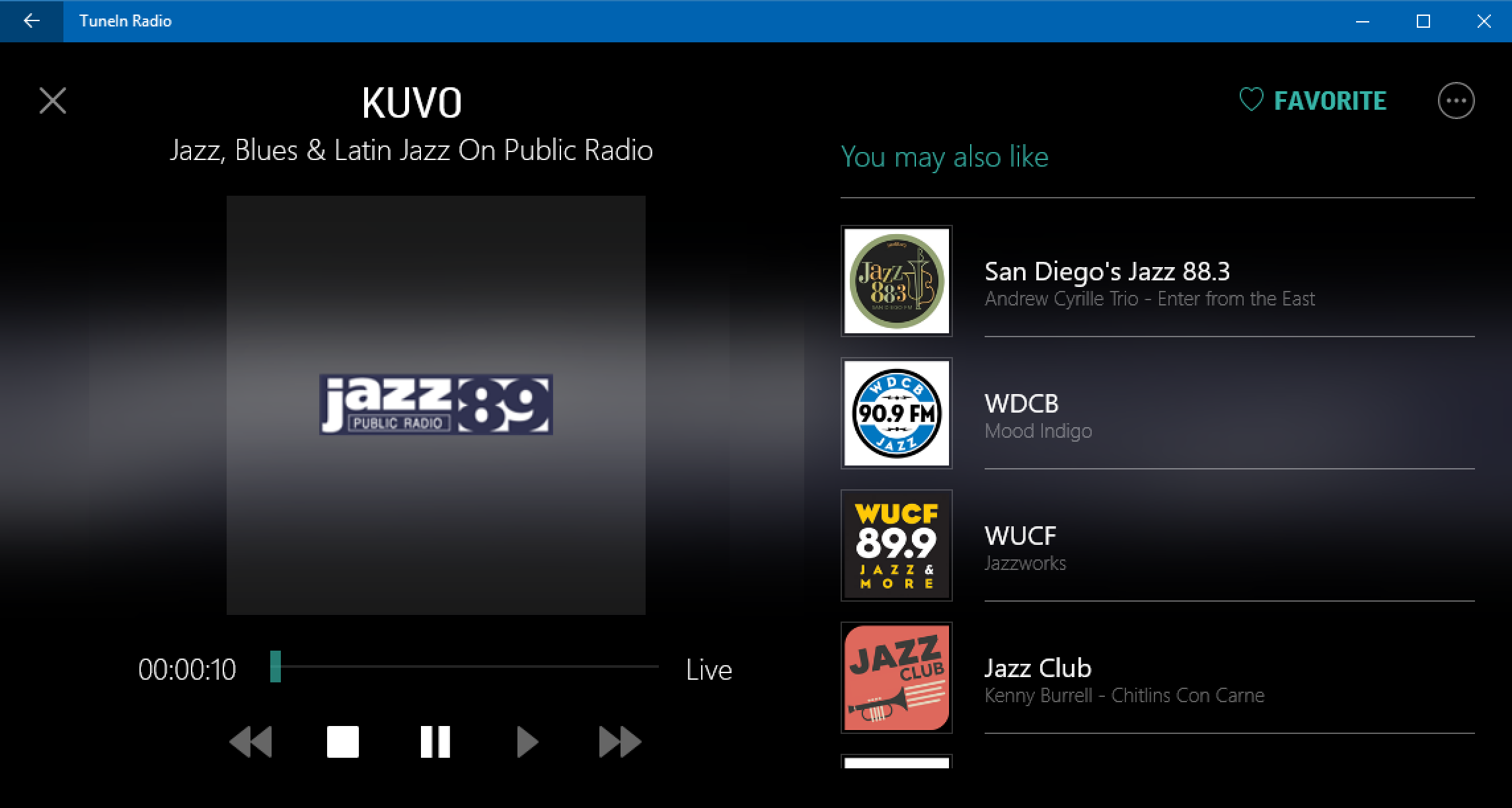 Very nice and you can see all the standard controls for audio (though since it's a live stream, previous and next track don't work). It also offers a variety of similar jazz channels from elsewhere, a chance for me to expand my horizons a bit. In this instance, the suggested channels are Jazz 88.3 from San Diego, California, WDCB from Chicago, WUCF from Orlando, Florida and Jazz Club from Washington DC.
A simple, elegant and easy to use solution for listening to thousands of different radio stations and discovering some great podcasts, already on your Windows computer. How cool is that?
Not only that, go back to those categories because there's another one worth highlighting, particularly through the TuneIn mobile app:

Yup, audiobooks. A great option: I'm a big fan of audiobooks, have been listening to books for many years and have even gotten my kids hooked on it too!
So that's it. Check out TuneIn on your computer and I suspect you'll be surprised at how it changes your FM listening habits for the better.