Now that I have some songs available through the iTunes Music Store [ed: it's now just the "iTunes Store" since it's more than just music. 🙂 ] I want to link to what I have from my MySpace profile. I don't want to have a per-song or, planning for the future, per CD link, I want to link to all the results people get from searching for my name in the Store. Can that be done?
My first reaction upon seeing your question was to say "um, no, that can't be done", but a reader, Marie C., pointed out that it was indeed quite possible to accomplish with a little bit of finagling.
Thanks, Marie, it's helpful to have people watching my back! 🙂
The key is to pay attention to the "power search" link that's part of the result of a search on the iTunes Store.
Here's what I mean:
I'll start with a simple search for a favorite artist of mine, the talented Kate Bush. I do this by simply typing her name into the iTunes Store search box on the top right corner of the Apple iTunes application:


The result offers a bunch of different things, including a "Power Search" link, a list of matching artists, popular albums, and so on: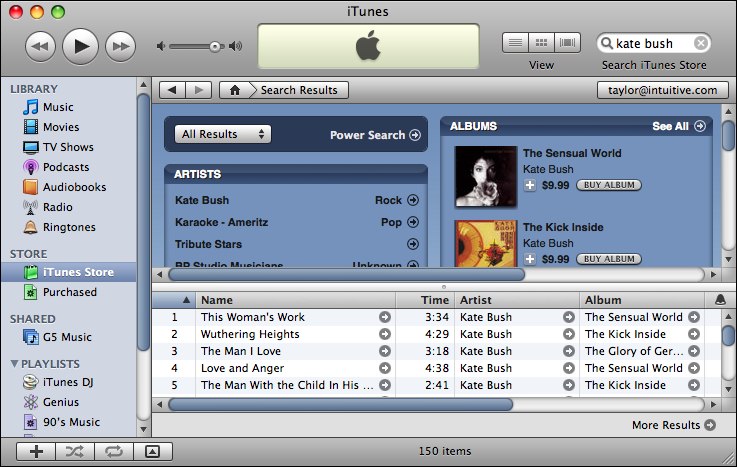 For any of these links, it turns out that I can easily copy the URL. For example, the Power Search URL, as Marie suggested:

More interestingly, though, is to select the matching Artist entry:

Does it work? Here's the URL I got from copying the artist match for "Kate Bush":
http://itunes.apple.com/WebObjects/MZStore.woa/wa/viewArtist?id=487277
Click on it, see what happens in your browser.
Neat, eh? Now you're good to go with a couple of alternatives for your MySpace profile page.