I want to give my daughter my old iPhone so she can use it as an iPod Touch sort of device and am concerned that she'll listen to material that doesn't meet my approval as a parent. What I'd like is to put some sort of limiter or lock on the phone so that any music that is marked as having explicit lyrics is skipped or prevented from playing. Possible?
Apple iPhones and iPods do have some built-in limitations that help you control what music is authorized and played on the device, and I totally understand your desire to limit what your daughter can access, but I'm wondering how you think she's going to get music onto the device without you being aware of it or able to limit it? If she has an iTunes Store account then you can use the limits in the Store itself to restrain what she can buy.
Further, there's a parenting issue here too that I should mention because I know someone else will too: maybe what you need to do is build trust with your daughter, teach her why you don't like songs with explicit lyrics, and ensure you have a clear channel of communication between the two of you. It's a much better solution in the long run anyway, since as she grows up, she'll have many opportunities to listen to explicit or inappropriate lyrics at friends houses, on the radio, TV, etc. And, heck, one glance at a Lady Gaga video and you'll realize that explicit lyrics are the least of our worries as parents!
Anyway, you want to know how to do this, so I'll show you how it's done!
On your iPhone or iPod Touch, find and tap on the Settings icon, then in "General" scroll down a bit and you'll find:

Tap on "Restrictions" and you'll see some of the many apps you can restrict:
Tap on "Enable Restrictions" and you'll then need to set an access code:
Once you've entered it twice – hopefully the same code – you'll be able to restrict specific applications:
I actually have restricted YouTube because of Lady Gaga videos and the like: I think they're very interesting, but wayyy too sexual for my kids to watch without at least some challenges to overcome.
In addition, you need to scroll down on this page to find what you seek:
Tap on "Music & Podcasts" and you'll find that you can fine tune it to what you desire: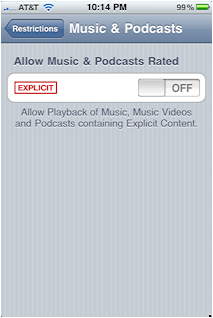 Set Explicit to "Off" and only "clean" (e.g., non-explicit) music and podcasts will be allowed, set it to "On" and anything goes.
That's all there is to it. Poke around in the Restrictions area to fine-tune things as you desire, but don't be surprised if somehow your daughter figures out how to hack the iPhone to allow the music she wants to enjoy anyway.