In a note over on your Ask Dave Taylor Facebook fan page, you said "you can mark your updates as only accessible by a subset of your Facebook friends". Dave, How is that possible?
Great question, actually, because as Facebook keeps tweaking the interface, there's a lot that has either vanished completely or become hidden. In this case, it turns out that depending on how fancy you want to be, it's either pretty easy or ridiculously complicated.
Let's hope for the best and I'll show you how I can post a Wall update to both everyone on my friend list except a specific person (think "surprise party") and another status update that's only for one specific person and no-one else can see it.
Here's a common sight in Facebook, a blank status update box:


What you have probably never done is examine the padlock icon. First off, just move your cursor over it and let the pop-up tell you what's going on:
Now actually click on it and you'll see that there are a bunch of interesting choices:
We want to customize the reach of this particular status update, so choose "Customize" and a window pops up with some darn interesting options: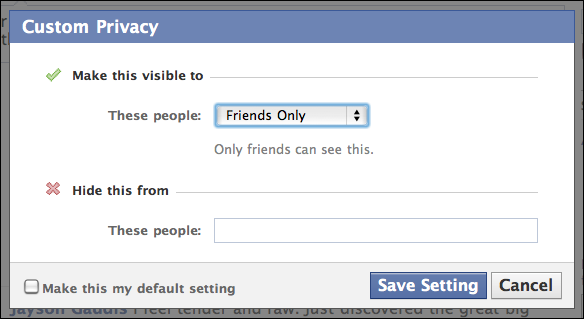 If you have Friend Lists on Facebook, you can choose one of those here, but instead I'm going to hide this particular status update from my pal Klaus. I do this by starting to type his name into the input box: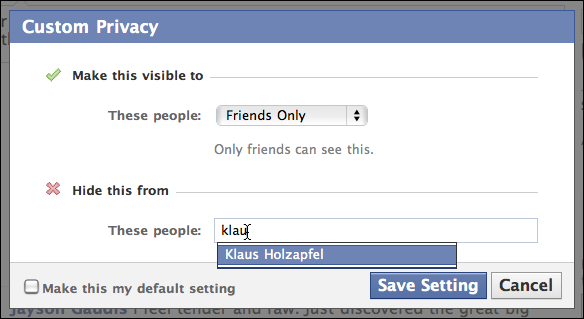 Looks good. I'll click on "Save Setting" and enter an update. Now, when I hover the cursor over the padlock associated with this status update, I'll see:

Klaus cannot see this update (sorry, mate!) and everyone that can has no idea that he's been excluded. You can see where you could omit your Mom when you post the next photo update from your sorority party here, but with some well-thought-out lists, you could also post status updates, photos, links, etc, for just your bowling league or UFC buddies too.
Go through the same steps, by the way, and you can also accomplish the nifty trick of posting an update that only one person can see, as I've done here:
Not sure how often I'd do this rather than just email the person, but it's an interesting capability.
And now you know. Hope that's helpful, and let's hope that Facebook doesn't change the interface tomorrow and make this all obsolete. 🙂