I like to post updates about my company to LinkedIn but people respond with requests for support or customer service help. The boss hates it. Is there a way to post updates on LinkedIn but disable comments?
You have a lot of control over your LinkedIn posts, as you surmise. You can disable comments, limit comments to people who are connected, even limit who can see a post. Not only that, but you can delete comments on a post you make if you so desire. However, it sounds like your company needs a better channel for customer communications, just to state what might be obvious. If you have a clear and easily accessed customer support and help channel, those customers won't be adding responses to your post, they'll be using your help tracking system. Something to consider, at least.
In terms of working within LinkedIn, best practices with all social media is generally to leave comments open to anyone who is so inclined to respond, then moderate those responses. It's because social media is really all about engagement not broadcast or reach. Anyway, even with that in mind, there are some times when a read-only post is appropriate for whatever reason. And yes, LinkedIn lets you do it.
DISSECTING A LINKEDIN POST
Let's start with the basics. You've written a post on LinkedIn and have included a graphic, photo, or another image to help with visibility. Perhaps it looks like this…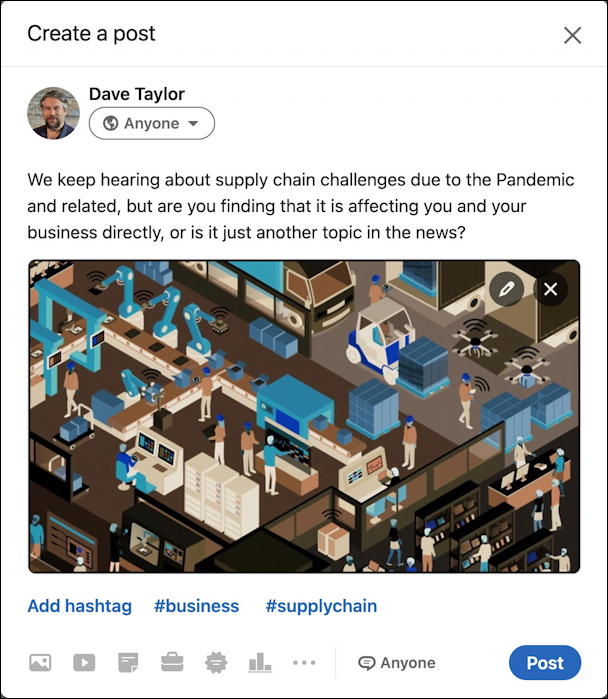 There's actually a lot going on here worth considering. First off, the "Anyone" immediately below my name is where I can change the visibility of my post, while the "Anyone" along the bottom is who can comment, the exact feature about which you've asked. Immediately below the image are a few suggested hashtags that can help the post gain in visibility – in this instance #business and #supplychain – and along the very bottom are a row of tiny grey icons. Left to right, they are add photo, add video, add a document, share that you're hiring, celebrate an occasion, and post as poll.
Indeed, for some of your posts, it might make sense to use the celebrate an occasion option as it's shown differently to a regular LinkedIn post!
LIMIT LINKEDIN POST VISIBILITY
Limiting the visibility of a post to a specific LinkedIn group or similar is easy. Click on the "Anyone" that's immediately below your own name at the top of the post block…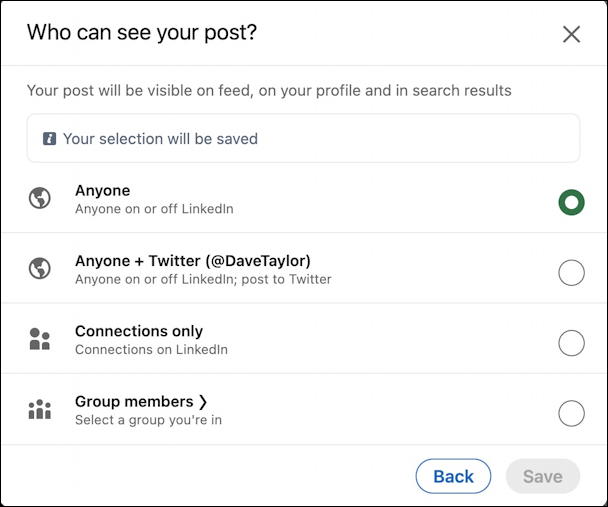 As long as you've got it all set up, notice that you can select "Anyone + Twitter" and easily share your post on the corresponding Twitter account too (mine, as you can see, is @DaveTaylor). An easy way to gain additional visibility. Want to go in the other direction and limit the post to just people with whom you're connected? Choose "Connections only".
Make the change you want, then click "Save".
DISABLE COMMENTS ON A LINKEDIN POST
This time, click on the word "Anyone" along the bottom row. This lets you control who can comment on your post, if anyone: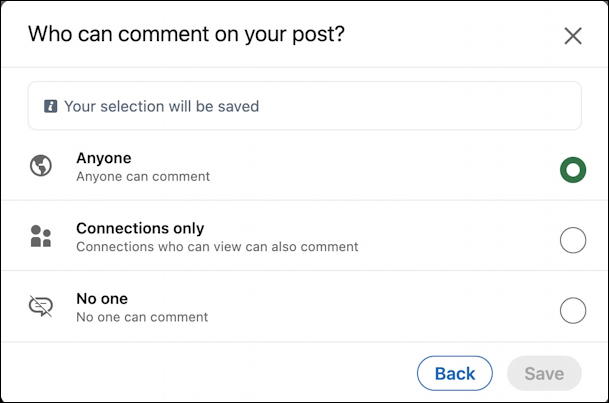 Notice that you can share your post with everyone (e.g., visibility = anyone) but only allow your connections to actually comment. It's an interesting compromise worth exploring. Or, if you insist, you can disable comments. 🙂 Simply choose "No one" and no one will be able to comment on your post.
ADD A FEW HASHTAGS
While we're at it, why not add a few recommended hashtags? Easily done with a click…
Hashtags work best if they're fairly specific, so a handy trick is to back up a single space so your cursor is at the last letter of a hashtag. After a moment, a list of more specific hashtags will be shown, offering some insight into how others are categorizing their related posts:
Some social networks offer up an approximate frequency count of hashtags so you can tell if they're popular or not, but LinkedIn doesn't offer that feature. Instead, it's up to you to decide if, for example, #supplychainmanagement might be a better hashtag than just #supplychain.
Got everything set up?
HOW TO TELL A POST HAS COMMENTS DISABLED
Once you post your LinkedIn update, if you haven't made any changes to visibility or comment permissions, it'll generally look like this: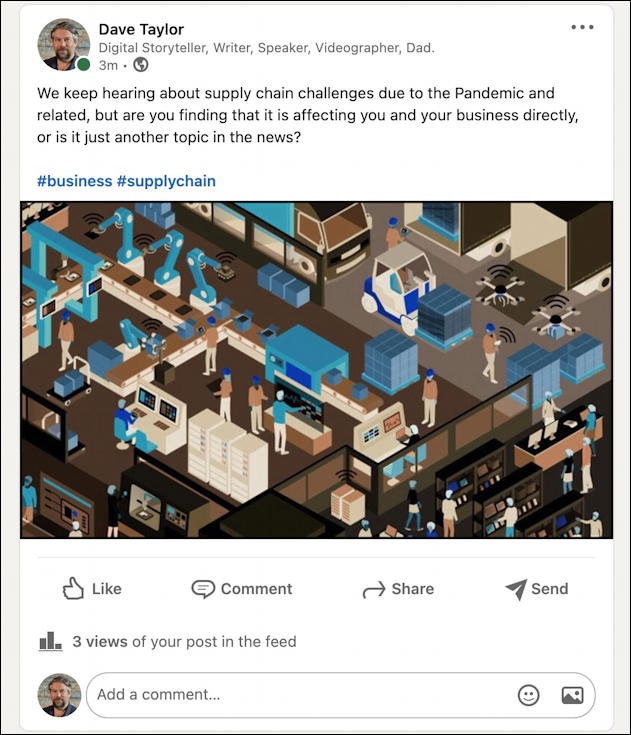 Notice on the third line there's an indication "3m" that shows the post is 3 minutes old. Adjacent to that is a tiny globe icon; that means it's globally visible. Near the bottom notice that the Comment option looks the same as Like and Share; that means comments are not disabled. If I had disabled comments, it would look like this:
That's it. Pretty straightforward once you know where to look and what to click upon!
Pro Tip: I've been writing about LinkedIn since the launch of the popular professional networking site. Please do check out my extensive LinkedIn help area for lots more tutorials while you're here!