I'm not sure what happened, but my AT&T LG500 cellphone is suddenly locked up and insists that I need to enter a PUK code. Well, it says "PUK PIN Code", but either way, I don't know what the code is. Help! Each time I try the counter goes down by one and I'm afraid something bad's going to happen if I get to zero too… HELP!
Well, you've got good timing, I'll give you that! We just went through this same puzzle with my daughter's Samsung phone too, and we are also stuck on, uh, part of AT&T's cellular network.
Let's define a few terms to start out. PUK stands for "PIN unlock key", though you often see it referred to as PUC, a "personal unlock code". And that "PIN" in "PIN code"? That's "personal identification number". So basically your phone is saying that it's all locked up and you need to identify yourself as the owner before it'll unlock.
Problem is, you're in the same situation we were in: you don't actually know the unlock code.
Since they don't have biometrics like retina scans or fingerprint analysis or, better, DNA analysis, you're stuck. Or are you?
Turns out that if you log in to your account on the AT&T Wireless Web site, it can show you the PUK code that you can then enter and unlock your phone. No kidding.
First off, this is doubtless what your phone looks like: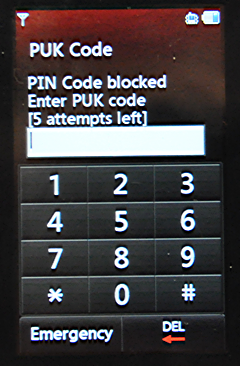 You can see that we're halfway through the ten attempts we're allowed to try. In a minute, you'll find out that if you get to zero, your phone's SIM card freezes up and you'll need to get a new one. So don't mess with it yet!
Log in to the AT&T Wireless site with your account credentials, then find where it lists your phone:


You can see what you want on the right: "Unblock SIM Card". Click on it, and:



You can see the PUK code for this particular phone: 87897808
Scroll down a bit, though, the warning text in the yellow box is well worth reading: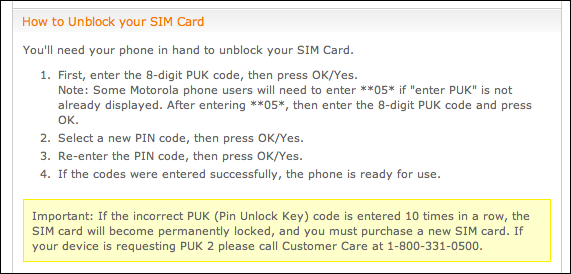 Got that? Enter a wrong PUK code ten times in a row and your SIM card will be permanently locked and you must purchase a new SIM card. Not good.
Fortunately, you know now how to deal with the situation. Good luck!