Welcome to Jack Sparrow's world! The life of a pirate can be defined in one word: dangerous, and so you can't afford to waste time in building your notoriety. Here are some tips on how to become the most hated scalawag of the online seas.
Right at the very beginning of the Pirates of the Caribbean (or "Carribean" if you spell like I do) game you are introduced to the most obvious way to gain quick ground in your notoriety level, quests. Complete quests to receive point bonuses and progress your character through the game's story and more often then not there the added perk of battling enemies for a little something extra.
There is nothing more rewarding than a good pirate fight. Combat is an excellent way to receive both notoriety and weapon points. One thing to take note of is the fact that enemies are indicated in various colors. Red enemies are abundant in points but they are also the toughest of the lot followed by yellow, green and grey.
Choosing your enemies wisely can yield you a lot more points much faster… just remember to keep an eye on your health and make sure you can escape if you are overwhelmed. Ships count as enemies too, so when sailing don't hesitate to try and blow opposing ships out of the water.
Hand in hand with enemy difficulty goes location. As you progress in Pirates of the Caribbean and travel to the various islands make note of the average points by the enemies you encounter there. If you have a spare moment where you want to pick up some extra weapons points you can travel to these islands and fight to your hearts content.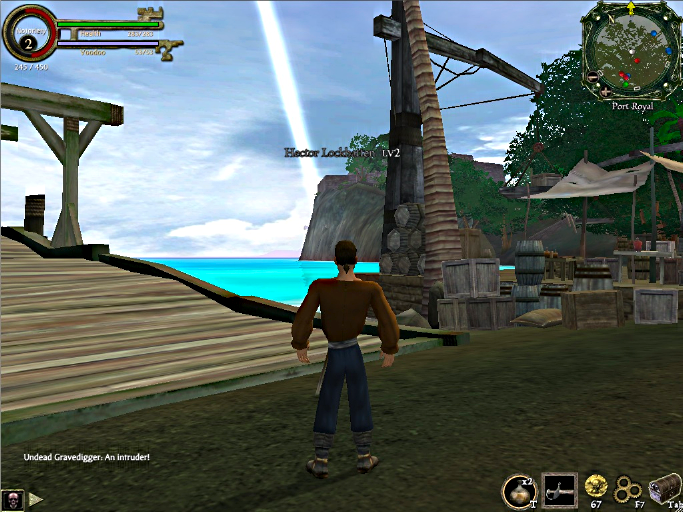 This is a good time to discuss the difference between your character's notoriety level and your weapon's level. Character notoriety is directly applied to the character; attacks, defense and other attributes are increased. Weapon level is measured in skill points; when you receive a skill point for a weapon you can use it to improve existing skills with that weapon or learn new ones.
Remember that you can only use a skill point on the particular weapon that you were using when you earned it. This means that you will need to cycle through your weapons and try to maintain a balance of skills. Upgrading your weapons is a vital part of the game and many players overlook its potential. Imagine the advantage a player with a well rounded collection of upgraded weapons would have against the player that only upgraded one.
Also worth noting is that if you are playing on a free account, your are limited to upgrades and weapons you can have.
Don't forget about crews! Adding a member to your crew yields you an instant point boost and this will increase with each member you add on from there.
Good luck!