Now that I'm on Google Plus — thanks to you, Dave! — I'd like to experiment with the video conferencing "Google Hangout" feature. Can you offer up a simple tutorial that shows, step by step, how to get it up and running? Thanks.
You've figured out what I think is one of the neatest features of Google Plus, actually, the ten-person video conferencing system called Google Hangouts. When you think of all the expensive video conferencing applications and solutions on the market, it's rather amazing that Google offers this for free.
Then again, this presupposes that you have at least one other friend or colleague on Google Plus that is willing to videoconference with you. Hopefully that's true! 🙂
To get started with a Hangout, all you need to do is log in to your G+ account and look for the Hangout button on the right side:


Green for go, click on "Start a hangout" and you're off…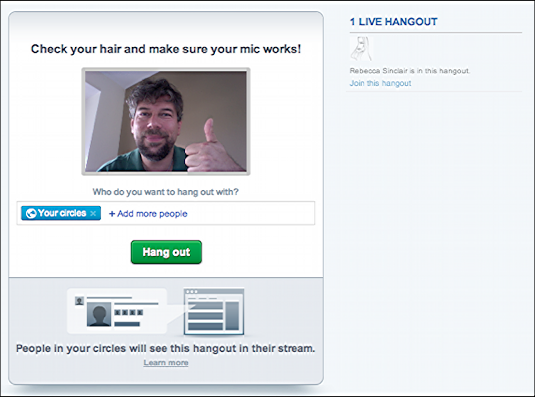 Hey, that's me!
As you can see, the initial setup screen for a Hangout lets you preview the video feed that everyone else will see, along with you specifying the circle or circles you want to invite or, if you want, the specific individuals you want to join you.
But let's say that you don't want to have an open Hangout for "Your circles" but instead want to constrain it to a smaller group. To do that, click on the "x" on the small blue button:


Once you've axed that one, another click on the space under the prompt "Who do you want to hang out with?" and it'll offer up a bunch of options:


You can see the Circles I've created — Friends, Family, Colleagues — along with the member count for each group, along with the special Circles "Your circles" (a combination of everyone in each of your labeled Circles), "Extended circles" (which I think is your circles and the circles of your friends, but I'm not sure. If someone knows, perhaps they can define it here in the comments?) and "Public", which is everyone who has you in their Circles.
I'll choose "Friends", then click on the green button "Hang out"…


Oh, you know it's not good when you get the sad robot.
At this point let's have a look at the bottom of the page. On it you'll see a bunch of options:


I'll invite some more folk by clicking on "Invite". This pops up a window thusly:


As with the earlier invite box, click here and you'll see the same menu of choices. Pick one – or more! – then click on "Invite" and after a second or two you'll see:


While we're waiting for some folk to show up, let's click on the "Settings" button on the bottom of the page too. You'll see this is where you can tweak or modify settings like what microphone it's using for your audio input:


Hopefully everything looks right. Now, where are those friends of ours?
Ah well, too impatient to wait. I'll cover what it looks like once friends show up in another posting. For now, I'll just highlight that this is what they're all seeing in their G+ Streams:


As you can see, it's easy enough for them to click a button and join the conversation!
Google Hangouts is a slick, well-implemented feature that's surprisingly powerful and fun both. If you haven't tried it yet, well, get hopping!