Just upgraded to iOS7 on my iPhone 5 and it's definitely looking weird, the new interface. But I'll get used to it. What I can't figure out is how to kill or quit a running application?
As an iOS developer, I've been running iOS 7 on my iPhone 5 for a few months now, watching it go from pretty rough and buggy to quite stable and a powerful update to a stale mobile user interface when compared to either Windows 8 for Mobile or the very latest version of Android. As with every update, however, there are things that are cool and there are things that are just downright baffling and hard to figure out.
One of those is something you've bumped into already, as demonstrated by your question, the question of how to kill a running application.
I will say that generally most users never have to worry about this, other than perhaps if you're really paying close attention to battery usage or are running iOS7 on an older device that just doesn't have much oomph. My kids are used to a really old iPhone 3, for example, and they've learned to kill apps once done to ensure that they can eke out the maximum possible battery life.
On a more modern phone or tablet, however, it's generally unneeded.
Still, that's what you asked for, so…
To quit or kill an app completely in iOS 7 start by double-tapping the Home button on the front of the device. It gives you a view like this: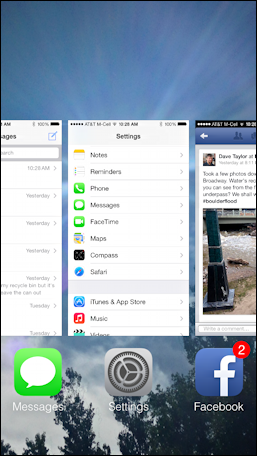 Each app shows its window and, below it, its icon.
On the older iOS you could tap and hold any of the icons to get an "x" on the top edge that a tap causes that app to quit.
iOS 7 is a new breed and the quit gesture is more logical but you need to know how to do it.
First, I'll slide across the the app I want to quit (just swipe right-to-left as needed). I end up here: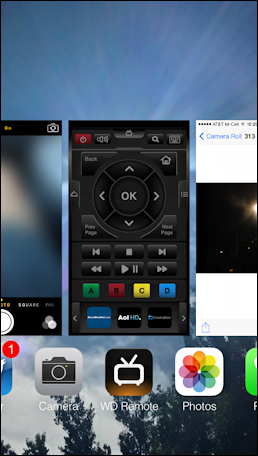 The app I want to kill is WD Remote and there it is, nestled between Camera and Photos.
To kill it, I place my finger on the window associated with the app and flip it upwards, off screen.
Partway through that gesture it looks like this: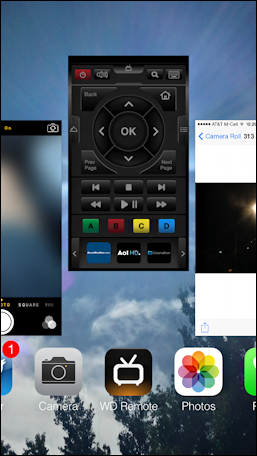 And when it's done, the app window and icon both vanish, with everything else sliding into place to fill up the hole:
Mission accomplished.
Now, what else are you finding confusing in iOS 7 that I can help with?