Dave, what's the best way to find out what competitors are paying on Google AdWords for specific keywords or related? I don't have an AdWords account, however, or I could just use that to find out, I imagine.
Even if you had a Google AdWords account, I am pretty darn sure that you can't find out what a specific competitor is doing because of privacy and confidentiality policies. You can, however, certainly pay attention to what searches you do when you find their ads show up then research those specific keywords to ascertain the going rate for a given keyword.
In terms of finding out how much ads are going for on AdWords, you can actually use the AdWords system, or, if you find that as Byzantine as I do or simply don't have an AdWords account, you can approximate things by using the easier – no account required – Yahoo Overture ad tool.
Start off by going to the Overture Bid Tool. You'll need to verify your identity so the system knows you're not a spammer:


Let's pick a keyword that should be fairly valuable:
refinance
. Sure enough, the per-click bids are pretty darn high:


You can see that the number one position is going to cost you about $6.45/click, while number two and number three are both at $6.13/click. Those are really extraordinarily high! By comparison,
plasma TV
costs $0.69 for the #1 slot and
mp3
costs a slight $0.14 for the top position.
But don't race over to Google and start bidding! Turns out that the reason that these are cheaper keywords is because they aren't specific. Smart pay per click advertisers, whether using Overture or AdWords, know that there's a world of difference between "plasma tv" and "buy plasma tv", and sure enough, the latter is twice as expensive for the top slot.
It's very interesting to experiment with this idea too. For example,
ipod
costs $0.60,
buy ipod
costs $1.01,
cheap ipod
costs $0.52, and
discount ipod
costs $0.66. The phrase
free ipod
doesn't have any bids, interestingly, nor does
ipod killer
(maybe Microsoft will bid on that down the road, once the
Zune
is released?)
Once you have a sense of what keywords are worth in your space, the next step is to figure out how commonly they see searches. Let's stick with the Overture toolkit, though you might find that alternatives like
Wordtracker.com
or
Nichebot.com
are more to your liking.
This time, you need to go to a different tool on the site:
The Overture Keyword Selector Tool
. Here's what it looks like: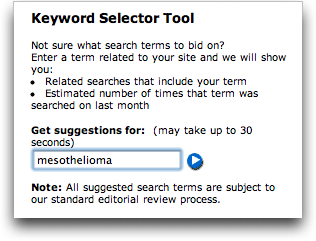 The keyword
ipod
generates: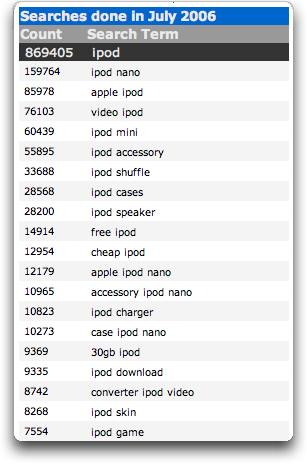 and if we go back to our earlier keyword of
refinance
, you can see the results:


It's a bit of work, but you'll want to dig around with some keyword research, identifying those
narrow, specific keywords
that will help you precisely identify potential customers, then use the bidding tool to see how much it would cost for you to have top placement. Not necessarily slot #1, however, because you can easily overspend to be at the very top, but perhaps #2, or #3.
Then you can focus on converting that traffic rather than worrying about how your competitors are bidding.