I remember that there used to be a cool equalizer feature in iTunes that let me compensate for my rather treble-heavy headphones by boosting the bass on my songs. I looked on the Controls menu, however, and it's gone. Is it really gone or have they hidden it?
You're right, the equalizer feature in iTunes used to be easy to find. In fact, I have a vague memory of it being a button on the bottom of the iTunes window itself, a little icon that popped up the equalizer window. No more. Now it's Airplay and who knows what else. The more things change…
Turns out that the Equalizer feature is still in iTunes, luckily, it's just in the wrong place. Apple apparently considers it a Window, not a control, so it's accessible from the "Window" menu.
Let's have a look, and, as a bonus, I'll show you a neat trick with music equalization too!
First off, as I said, the "Windows" menu: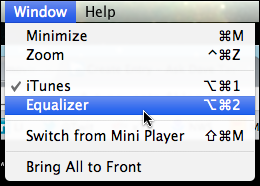 Choose "Equalizer" and you'll have the iTunes equalizer window instantly appear: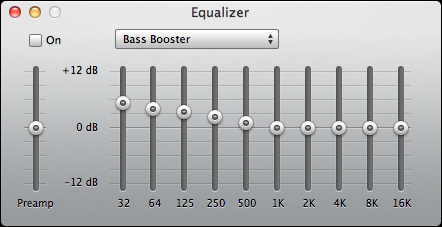 Note that if you don't have "On" checked on the top left, changes won't affect what you're hearing. Easily done and as you can see, there are a lot of preset equalization options: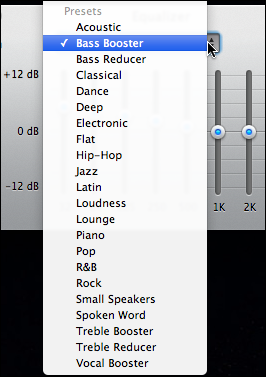 You can also just drag the sliders up and down to hear the difference: lower frequencies (the "bass") are on the left, higher frequencies (the "treble") are on the right. To really appreciate what's going on, I strongly recommend you plug in a pair of headphones. It's startling how much difference the equalization settings can make!
Oh, and the neat trick since we're talking about equalizers: when you're looking at your iTunes player window, didja ever notice the tiny triangle icon to the left of the track info?
I've highlighted it here:

Click on it. Now you're seeing a realtime equalizer display of the music:

Cool, eh? If you get tired of it, just click on the tiny triangle icon again and it'll revert back to the usual track information.