I'm trying to figure out if an email I got from my cellular provider, Verizon Wireless, is some sort of cunning phishing attempt or a real message from the company. It references an account number, but I don't think it's mine?
Generally, it's hard to imagine any company sending email asking for you to log in to their site for any reason in this day of never-ending phishing attacks, but I also got an email from Verizon and y'know what? It looks legit to me.
Here's what I received: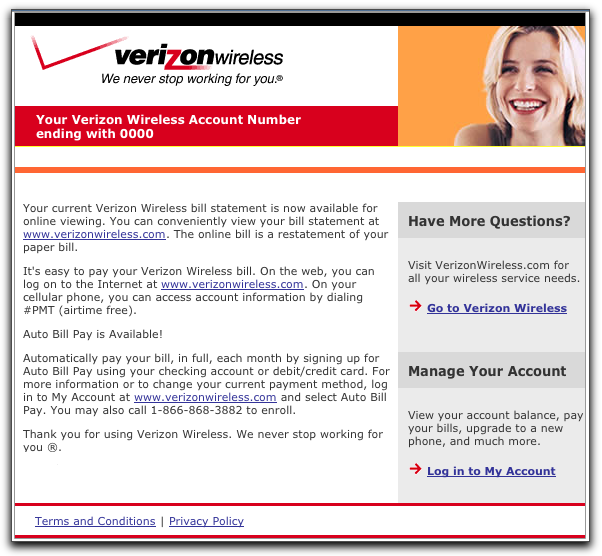 Looks pretty legitimate, doesn't it? My usual test to see if it's phishing is to look at where I'd go if I were to click on a link, which Microsoft Entourage shows on the bottom window edge when the cursor is over a link (a darn good feature that all email programs should include). In this case the link "Log In to My Account" shows:
A link to
https://myaccount.verizonwireless.com/vzs/loginform
looks quite legitimate to me, so I can only assume that this is a legit email message from Verizon rather than some sort of sophisticated phishing attempt.
Nonetheless, I strongly encourage you to
never click a login page link in an email message
whether you think it might be legit and valid or not. Then you're always safe.
Instead, for Verizon Wireless, just type in
http://www.verizonwireless.com/
and log in directly. It's a bit more work, but a lot more safe.
I find it shocking and rather stupid on Verizon's part that they are sending out this sort of email because it really does invite phishing attempts and while breaking into my cellphone account wouldn't be the worst crime in the world, it's still a potential problem and certainly could be quite an inconvenience!
So this email you received might well be legit too, but I'd still strongly counsel you to type in the real company URL and log in from that point, rather than take the convenient, but potential dangerous, shortcut of the link included in the email message.