My sister has a great little Stickies app on her Mac system, but I haven't found anything similar on the Windows 10 side. Is there a free Post-It or Stickies note app that can let me leave little messages on my screen?
If you've checked the Microsoft App Store, you'll find that there are dozens of post-it type applications available to buy and download, and some even advertise themselves as free. But you don't need to go there at all, because it turns out that Microsoft has already included a Stickies program with Windows 10. Even better, it's tied in to Outlook and your Microsoft account so it turns out to have some pretty cool additional features too, features that even Evernote might envy.
But first, a tiny bit of trivia! Who invented Post-It notes, and when? The answer is a researcher at 3M named Spencer Silver, who back in 1968 was trying to make a strong adhesive for aerospace work but ended up with something that was easily removed without any sticky residue. Fellow 3M researcher Art Fry got the inspiration to try using it with paper and since he couldn't find white paper, he used yellow instead. And it worked, and worked great. It still took a few years to reach the market, but 3M released Post-It Notes in 1977, but no-one knew what the heck it was and the company dropped them. Finally, though, in 1979 the company tried calling it Post-It Notes and it became a huge hit, now selling more than 50 billion "sticky" notes each year. No wonder we want them on our computer screens!
Okay, back on task. Here's how to use Stickies, uhm, Sticky Notes on your Windows PC…
HOW TO LAUNCH STICKY NOTES ON WINDOWS
It's easy enough, go to the Taskbar, click on search, then type in "sticky":
Yes, you already have it on your PC. Handy, eh? Click on "Sticky Notes" to fire up the app.
Now Sticky Notes works a bit differently to Stickies on the Mac because it has a central window that controls all the other "sticky" notes. That's probably what you'll see show up in the screen:
In this instance, I have four sticky notes, any of which can be popped out as its own mini-window by simply clicking on the top right corner. A menu appears:
Choose "Open note" with any of the notes and it shows up as a slim, featureless window: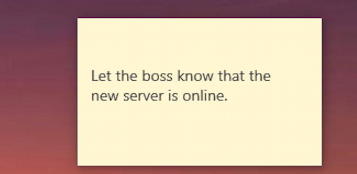 But wait, there's more!
HOW TO CHANGE A STICKY NOTE COLOR
Click on the top portion of a note and a tiny rainbow of colors appears:
Easy enough. And you see the "Notes list" in the middle? If you close the main window, that's how you open it up again.
Change colors, type text, move the little windows around, or close them. Don't worry, they're all still part of the database and therefore will show up in the main control window, even if you quit and restart the program.
That's not the coolest thing about Sticky Notes, though. To see its best feature, you need to open up your Web browser and go to Outlook.com…
STICKY NOTES SHOW UP IN OUTLOOK.COM
Yes, because you have to log in to your Microsoft account the program can use the Outlook database to store and sync the notes. In fact, they all show up as a folder in Outlook:
Since Outlook.com is Internet based, not actually on your PC, it means you can get to your Sticky Notes from any computer. Even your sister's Mac!
Not only that, but if you enter more information or update the Notes in Outlook.com, that change should also be reflected back on your PC Sticky Notes too. Doesn't happen? Then you can force a Sync by going to Settings (the gear icon) from the main window in the Sticky Notes app…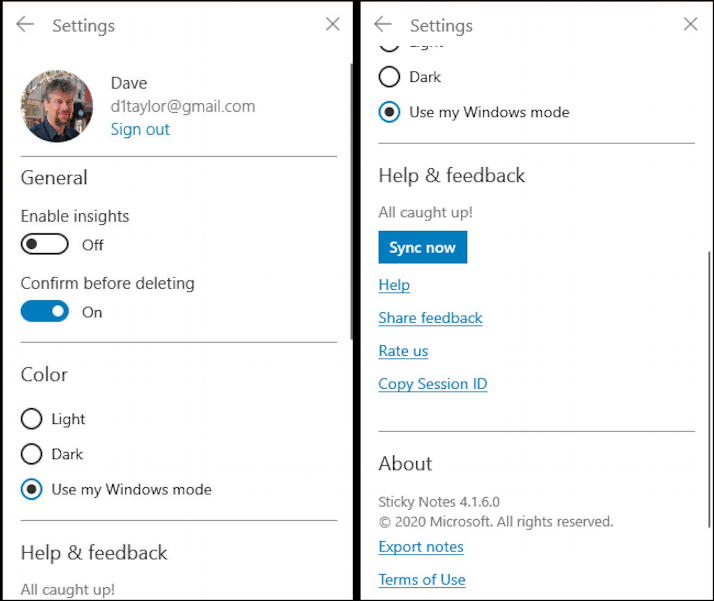 Click on the blue "Sync now" and everything should sync up and you'll be saying "dang, that's pretty cool" too.
Pro Tip: I've been writing about Windows 10 for years and have an extensive Windows 10 help library. Please check it out to find lots of additional tutorials and guides while you're here. Thanks!