You don't have to be a conspiracy theorist to realize that your online privacy and rights are being eroded. Whether you're based in the United States or just about anywhere else in the world, organizations are watching what you're doing online.
The rise of large scale data tracking and monitoring is precisely why a virtual private network (VPN) is such a boon: Use a simple software app and it hides all your tracks, restoring your online privacy. And the one I recommend right now – and use! – is IPVanish.
Conceptually it's quite straightforward: Every site you visit, every data packet you get from a remote service, it's all relayed through a special server located elsewhere on the Internet. You want to check the scores on the ESPN site, for example, and your request goes from your computer to your ISP to the VPN server to ESPN back to the VPN and back to your computer. Surf the Web and all your traffic looks like it's just going to one neutral site and everything else is masked and untrackable. And it's all encrypted as soon as it leaves your computer, so even if the ISP wanted to analyze it, they couldn't.
Problem is, a VPN can also really slow your computer connection down and some VPN services are clumsy and a hassle to work with. With all that in mind, let's look at the performance of a couple of different VPNs. To start, here's the speedtest of my Comcast Internet connection without any VPN running:

Super fast ping (basically the time between my computer and Comcast's server: 15 milliseconds), and definitely a solid download speed of almost 120Mbps. Upload speed? Not as good, but that's pretty typical and fine for most all Internet users.
For the first test, my old VPN service, ExpressVPN:

Ping time is expected to become slower as it's now testing against a machine that's geographically further away. Where you really see the penalty, though, is in download speed. That's less than half of the network speed without the VPN running, and while it's still decent speed, it's going to be noticeable.
Many people just believe that if you're running a VPN, you just have to pay that penalty, but IPVanish demonstrates that's just not true, with a minimal impact on network speed:
The ping time is still a lot slower, but notice that both the download and upload speed are barely impacted by using a VPN server that's actually over 800 miles away from our Colorado offices in Dallas, Texas. With performance like that you can leave your VPN running 24×7, even on your home network, and that's just what I do now.
Better yet, IPVanish also turns out to be super easy to work with on the Mac (and Windows, and Android, and iOS for iPhones and iPads too. In fact, you can have five simultaneous connections with a single subscription so you really can keep all your devices private). It shows up on the Mac menubar along the top and even shows how long you've been running the VPN: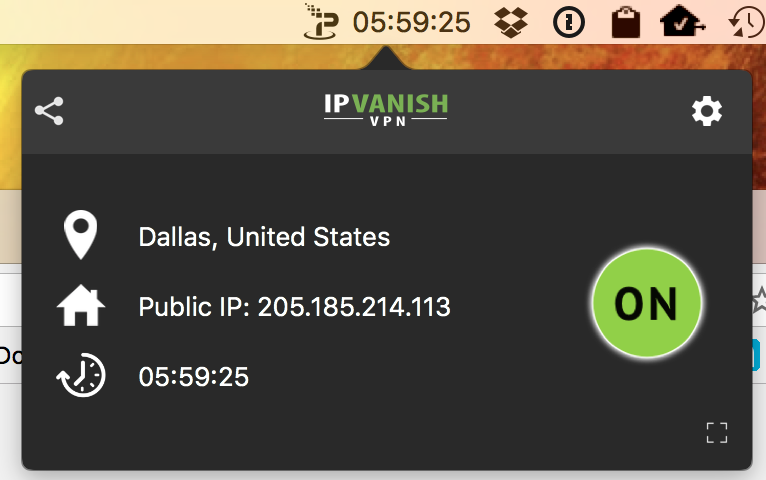 See the gear icon on the top right? Click on it and you get to the preferences and settings window. That's where you can really fine-tune how things work. The "General" settings are a good starting point:
You can see that you can easily configure the program to launch – and hide itself – at startup, hide it from the Dock, show connection status (the timer) on the menu bar and much more. IPVanish uses OpenVPN so there are servers throughout the world, offering people in repressive nations the ability to use the Internet as if they're based elsewhere in the world, and vice versa. Curious what YouTube looks like if you're in China? You can find out with IPVanish!
There are plenty more interesting settings too. On "Connection" you definitely want to enable "Auto Reconnect" so that if you switch networks or even close your computer and turn it on again you'll stay connected to the VPN:
One more. IP Settings offers some really interesting options if you're of the more paranoid ilk: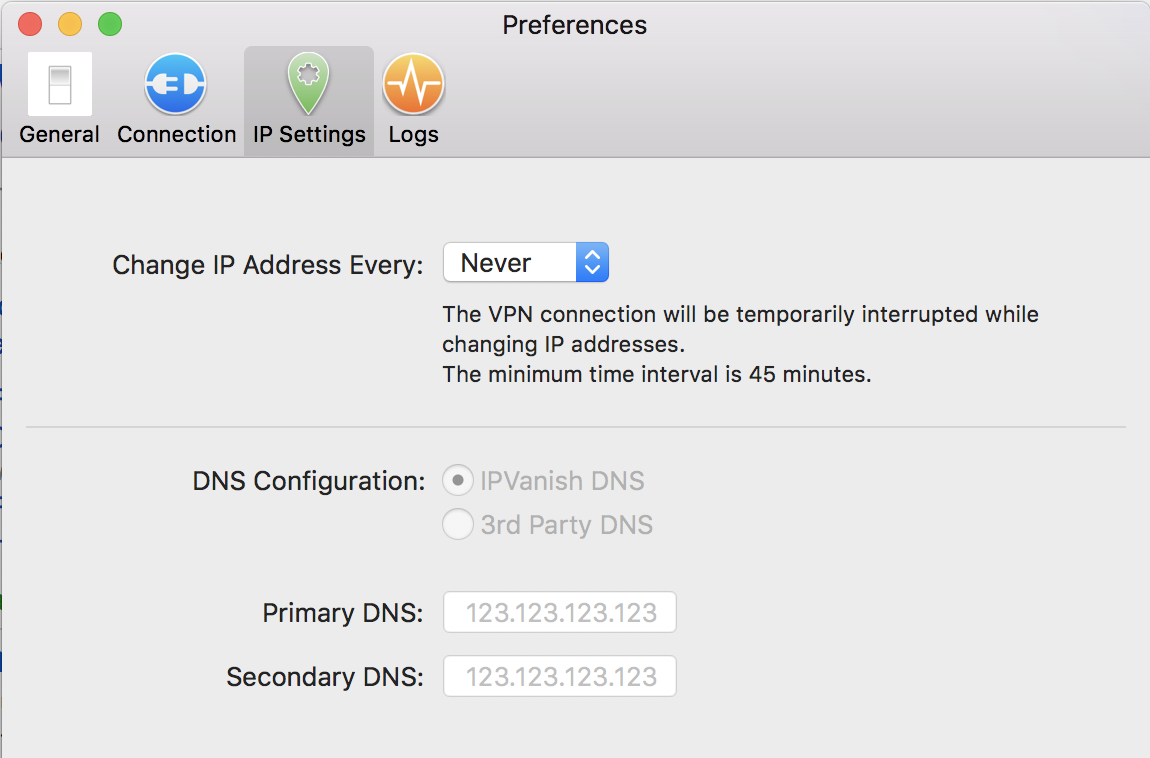 If you're really concerned about being tracked, you can actually set up IPVanish to automatically bounce you through a different VPN server as frequently as every 45-minutes. Sounds like something out of a cyber-thriller story, but it's a smart way to make it really, really hard for anyone to track what you're up to in the online world.
Interestingly, IPVanish also has a main screen that offers up some stats you can see if you click on the four corners of a square icon on the lower right of the pop-up window: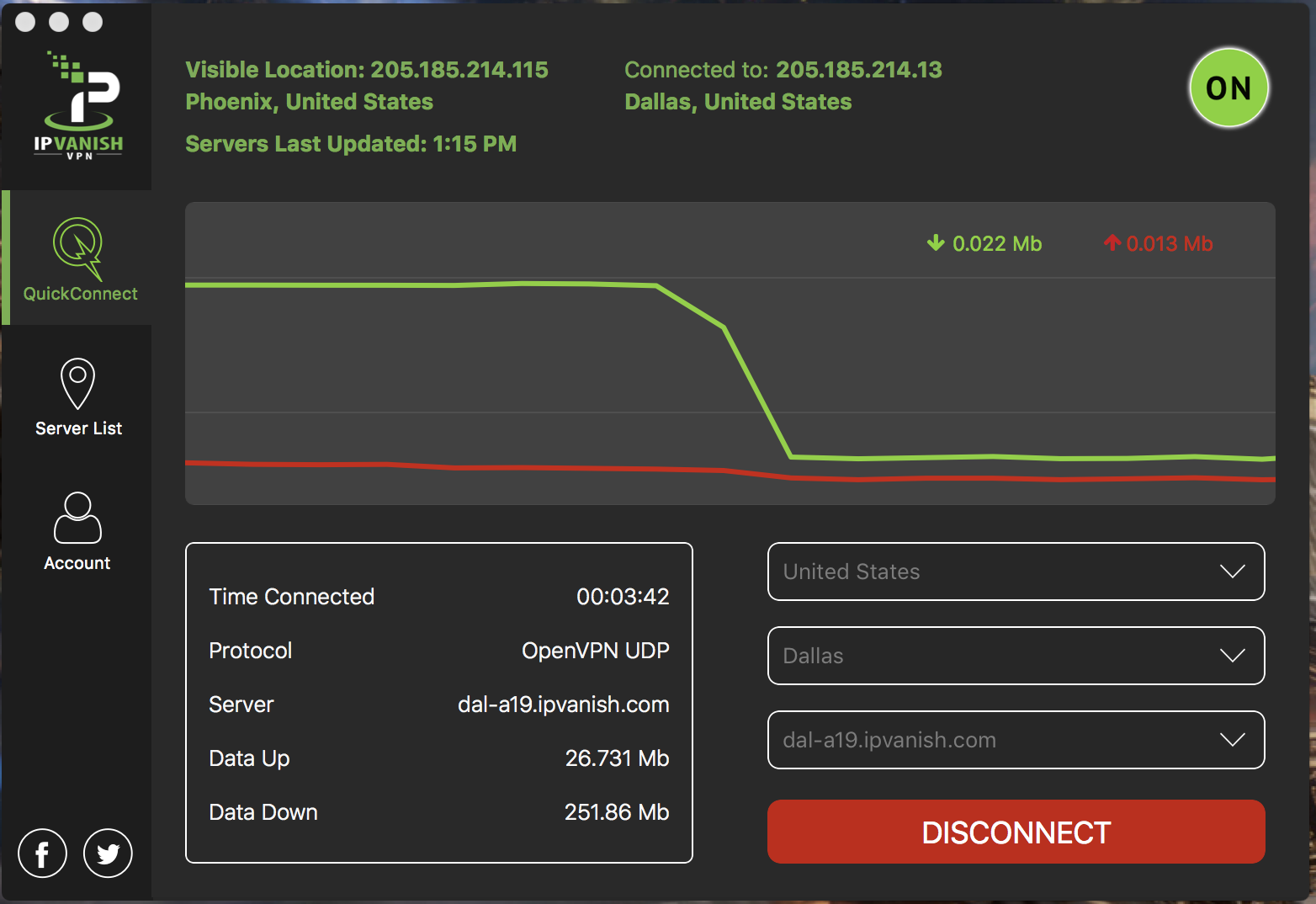 It's interesting to see how you actually use the Internet in this window. I was watching a YouTube video before I left that particular page, which is why my download bandwidth went from really high down to a very minimal rate. When I'm busy online doing a half-dozen things, it's usually very spiky because, well, ya gotta actually read what you visit occasionally, right?
Most importantly, IPVanish offers a great consumer VPN experience, where it's easy to set up, flexible for a variety of different use scenarios, and has a minimal impact on the speed and performance of your Internet connection, whether you're home or – far more importantly – on a public wifi network. Given the changes in privacy laws related to Internet Service Providers [read about New Laws Related to ISPs and IP Tracking] there are more reasons to install and keep a VPN running now than ever before. Whether you're a bittorrent fan, want to visit overseas sites as a local or just want to retain as much of your privacy as possible, it's time to get on a VPN.
As with many subscription services, IPVanish is considerably less expensive if you commit to a long term relationship. You can try it for a month for $10, however, or it's $8.99/mo for a three-month stint and a modest $6.49/mo if you commit to a year. That's $0.21/day to ensure your privacy, and you can use it on up to five different devices simultaneously, including your smartphone, tablet, and even your partner's gear. Quite a smart investment.
For all the reasons discussed herein, including their easy pricing plans,
IPVanish
is my recommendation for the best VPN available for the Mac, Windows, Android and iOS today, and I use it myself. Check it out, see what you think, and let me know how it works for you!
Disclosure: The IPVanish links in this article are affiliate links. That means you'll pay exactly the same price for a subscription if you choose to try it out, but the company pays us a modest commission to help keep the lights on here in ADT HQ. Thanks for your support.