I travel quite a bit on business and schedule events relative to my local timezone, even if it's a meeting or appointment I'll end up doing in a different city and different time zone. Which totally messes me up! I schedule a 6pm dinner for 6pm local time while in my office in Chicago, then when I get to San Francisco and look at my appointments, it's shown as a 4pm appointment. AUGH! How can I fix this?
Oh, brother, do I know your pain. It's a dilemma because your iPhone and every other calendar tool — including Mac OS X and its iCal program, your iPad, and even exported calendar events to Google Calendar (gcal) — is trying to be smart and automatically shift things so that your events are always relative to the local time, not your home time. Which is, well, wrong.
I have the same sort of thing: I live in Colorado and have spent the last few weeks scheduling appointments and meetings for during the Consumer Electronics Show this week. But CES is in Las Vegas, which puts it in Pacific Time, even though my home timezone is Mountain. The result? I check my calendar while I'm in Vegas and everything is off an hour. Incredibly not good.
The secret to fixing it is to enable something called "timezone support". You can set this up on your iCal program (see here: Lock down your iCal timezone) which is a good start, since checking your calendar on your computer will have the same shifting event time problem, but for iOS devices like the Apple iPhone, you need to tweak things a bit differently.
Here's the problem. When I look at my schedule for today, here's what I see:


The all-day events are fine, but everything else, every single event, is an hour too early because the calendar's trying to be smart and say "you set it to 4:30pm when you were in MST, which I know is really 3:30pm PST, so let me just shift it since you're now in PST". You can see that with my appointment at Vizio. It's not at 3.30pm Vegas time, it's at 4:30pm.
To fix it, I'll need to switch to "Settings" and look for "Mail, Contacts, Calendars":


You'll have to swipe down a bit to find it, as shown above. Then tap on it and swipe down until you find the Calendars section of the settings: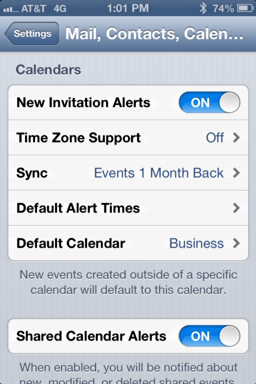 The key change here is "Time Zone Support". Tap on it to enable it, and…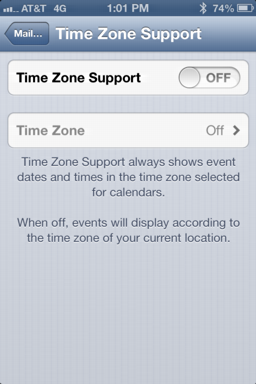 Use your finger to drag the switch and enable Time Zone Support, then tap the lower option to pick out your "home" timezone, the one you use when you're entering events. For me, it's Denver, CO: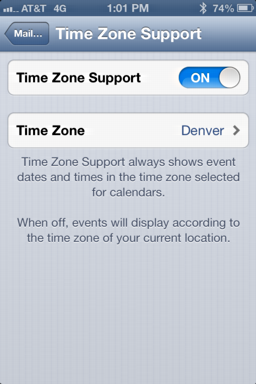 That's the fix. Now when I look at my calendar, it's locked onto MST and everything is at the time I desire:


Do realize that if you go to enter events while you're in a different time zone, your calendar app, whether it's iCal on your computer or Calendar app while you're on your iPhone, will default to the home time zone time. In other words, if I am in Vegas and enter a dinner meeting for 6:00pm, the program will assume I mean 6:00pm home time zone (Denver) time. Then I'll see it as a 7:00pm dinner meeting. Wrong, and a tricky problem if you're moving around a lot. Be aware, experiment, and learn to work with as best you can. It's a pretty tough problem to manage, I think.