This is just weird. In the last month or so my Apple iPhone has started beeping for an incoming text message multiple times if I don't indicate that I've read it, whereas before it just notified me once and was satisfied with that. Has something evil happened to my iPhone that everything's in triplicate now?
Don't call the exorcist quite yet. Nothing evil has happened to your Apple iPhone 4. Well, I should more accurately say that the triple-notification oddity isn't anything evil that has befallen your beloved electronic gizmo. I can't speak for the rest of the phone, of course!
If you're recently restored your phone (by clicking on "Restore" in iTunes, something you should only use if your iPhone is constantly being weird and not working as it should) or upgraded to a new version of the iOS firmware, it's possible that the particular setting you seek simply reset to its factory state.
If that's not the case, though, I'd think carefully about who has touched your iPhone in the last few weeks: someone appears to be playing tricks on you, dastardly tricks destined to surely cause you to lose your grip on sanity!
Before it's too late, however, let me show you how to disable this extra notification "feature" that Apple conveniently has tucked into iOS 4…
To start out, find the Settings app, as highlighted here:

Once you go there, it's a bit tricky because you have to scroll down to the individual app preferences, rather than go into "General", which might be what you're used to doing. Move down a bit until you can see "Messages":
A tap on "Messages" shows you a number of interesting options, but pay particular attention to the one I've highlighted here, "Repeat Alert":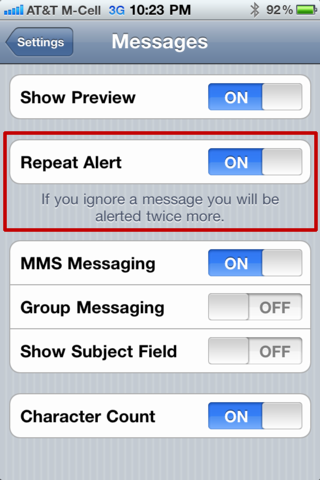 If you're sick of the triple notification feature, simply set Repeat Alert to OFF.
So now you know, that's the secret setting you ned to tweak before it's horribly, tragically too late. 🙂