I have an iPhone 6 Plus with iOS 8 and am curious: when I delete a voicemail message, is it really deleted from my phone or does it still take up space?
You would certainly think that my answer would be "of course", that deleting a voicemail message on your iPhone would actually delete it, but iOS 8 has a delete queue for voicemail that I think most people don't pay attention to, so no, messages aren't really deleted but are instead moved from the "visible" queue to the "subtle" queue.
I know this was a surprise to me when I started researching this question, because I had almost 250 voice mail messages sitting on my own iPhone, eating up space without me realizing.
Here's how I found out what was going on, and finally deleted all those pesky iPhone messages…
To start, go into the "Phone" app and tap on the "Voicemail" icon on the bottom right.
Here's what I see: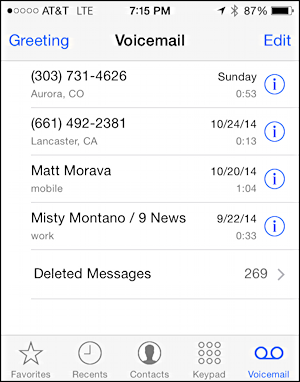 The red flag is "Deleted Messages" and the 269 number adjacent.
269 voicemail messages? Yikes!
Tap on "Deleted Messages".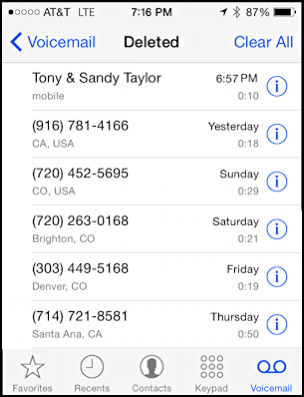 Ah, here are some of the voicemail messages I thought were deleted.
To actually delete an individual message, simply swipe right-to-left. A button appears: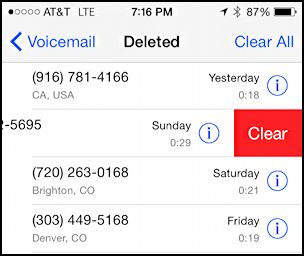 You can clear a specific voicemail message like this, but if you want everything deleted, tap on "Clear All" on the top right instead.
It'll confirm that's what you want to do:
Ready to delete everything? Tap on "Clear All". Changed your mind? "Cancel".
And now you know. Sheesh.