In the age of Google, searching has become one of the main activities and focuses for just about anyone that is connected to the Internet, via a computer, a tablet, or smartphone.
But what about searching for things on your computer system? I've been using Windows 7 (and Vista before that without any glaring problems) on my main graphics workstation/computer systems for years now. The search function built into Windows 7 in particular has been one of the joys and useful tools of my computing experience, something that I recently discovered isn't the norm.
There are apparently plenty of people that haven't had the same positive, material-discovery experience I've had for years! Join me as I detail the things that have continued to make the difference for me in the realm of Search in Windows 7 as a professional graphic designer, cartoonist, blogger and podcast host here via the online showcase of Dave's blog…
So we've all done it. You've slaved over a graphic, rendered the text, altered the video spending countless hours to create virtual perfection – and you have no idea where you saved it. While the "recent documents" listing in the app sometimes helps out, the fact remains is that you've got to "find" the file before you can submit it to the client and hit your deadline.
So now what do you do?
I click on the Windows-logo'd sphere on the bottom left hand corner of my laptop's display. Instantly, I'm greeted with a form field (that gleefully showcases a light grey "Search Programs and Files"). Since my start in the early 90's as a graphic designer, I've been using the same naming convention on each project I begin. I'll always use the name of the project, how it fits into the project, and what incarnation it is. Each segent is separated by a dash. Sample: toy-story-podcast-ad-sprint-3.psd.
Inside the search field I'll begin my search with toy-story, which provides me 15 results in the small white area above the Windows sphere…

So – would this be sufficient to help you find the files that you're looking for? Let's assume that the answer is "no" for a moment. If I didn't see the file I'm looking for in this display, the final listing in that window "See more results" would be the first thing that I click to continue the search. This provides me with an even larger, detailed listing of items that contain whatever I'm looking for, in a standard Windows Explorer window.
This expanded view again takes into account any file I might have the contains the words toy-story. Soundtracks, graphics files of all kinds that we've made for our Perspective Reviews, the outlines for the podcasts that we've created to guide our podcasts hosts – they're all there, instantly.
Still not finding what you're looking for? Click inside the search field on the top right of the Windows Explorer window. A new series of options are unveiled that allow you to search via an even greater series of search criteria.
Kind
: This option allows you to search via specific avenues inside your computer system. Email, Instant Message Streams, searching for specific pictures. 21 options total, providing you more dialed-in focus than you probably thought existed, isn't it?
Date Modified
: This option has always been a favorite and often-used option in my daily work. Often the most recent file inside the "File >> Open" path is where I'll find what I need to work on, but this option inside Windows 7 Search, allows you to not just have the most-recent or oldest files, but a very nice series of options that help you dial down the date that the item was manipulated, with just a few clicks. A short calendar helps you probe deeper into the file structure, allowing you to move back and forth to find the treasure you need to continue/complete the project. Still not impressed? That's alright! Onward!
Type
: While you've seen this in previous incarnations of Windows Search, something special this way lies. Not only does it allow you to type in the kind of file you're looking for, but it also amasses the listing of available file types, that contain the criteria you're looking for. This again delivers more great dial-down to help you find the files you need – often to get paid or perhaps meet a late-night deadline! Let's move to the last option.
Size
: While high-speed Internet has changed the way we view file size, it's still a great way to look for files, especially on your PC. Windows Search provides you with a drop-down listing of 7 different file sizes from "empty" (just what it sounds like) to "Gigantic" (larger than 128MB). While we certainly can have massive files nowadays, the given options provide you with some great detail-oriented search ability.
After Finding the Detail: So you've got a good listing, but want to get a good snapshot of what you've found, right? On the top right side of the Search window, you'll find an icon that will provide a second pane that displays a sample of what you've got highlighted, which will change instantly to a music player and more depending on which file you highlight.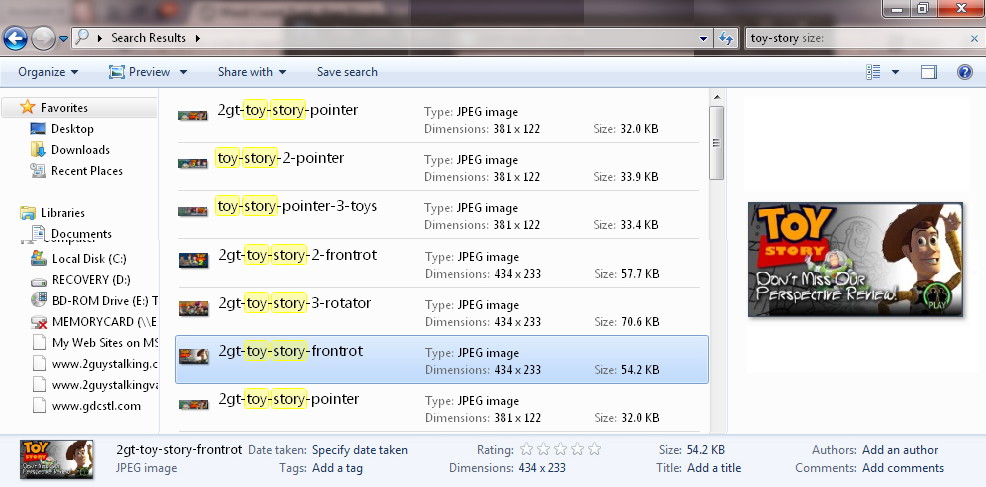 So what's not to like? What CAN'T you find with these details and tools? Tell us below and let's uncover the things that make Windows Search soar or sink in the comments section!
Guest writer Mike Wilkerson is a professional podcaster, cartoonist, and content creator, who also wrangles feature film and television reviews at
2GuysTalking.Com