I read your earlier article about how to make the font bigger within the ebook reader on my Kindle Fire HDX [see Customize Kindle Reader Settings], but what about if I want to make the font size bigger for the entire thing, including the Settings themselves?
Like all tablets, the Amazon Kindle line can have its settings tweaked in various ways to make it more accessible for people with visual, auditory and other needs, though sometimes you have to figure out how to get to the settings in the first place. In the case of font size on the Kindle, it's pretty straightforward, particularly if you're on a recent model Kindle running Fire OS 4 or Fire OS 5.
For these examples, I'm using a Kindle Fire HD 8 — a 5th generation Kindle — running the very latest version of the Fire OS, but it's pretty similar even on the Paperwhite or other eInk system and for earlier Kindles too. And it all revolves around your Settings.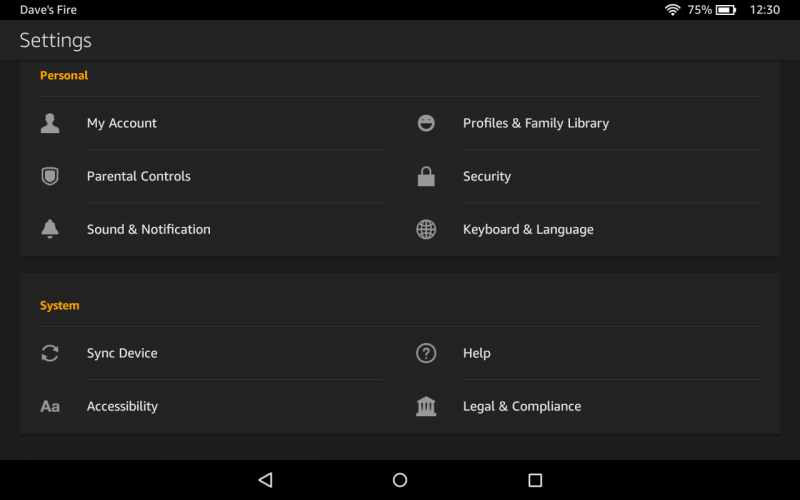 From here simply tap on Accessibility, which you can see in the lower left of the Settings window, above.
You can also find it with the "Aa" mnemonic graphic too, of course!
There are a lot of useful settings here, depending on how challenging you find reading the screen — notably the ability to enable High Contrast Text, but tap on Font Size for now.
Since the Kindle doesn't really have the concept of user accounts, that's not a worry. Plus, most users have the Kindle for themselves so regardless, you're good.
Tap on "OK".
Pick the size you want and it'll instantly change.
Compare the Settings menu choices in "Large" font rather than the earlier display in "Normal" mode, paying particular attention to how many options fit on the screen: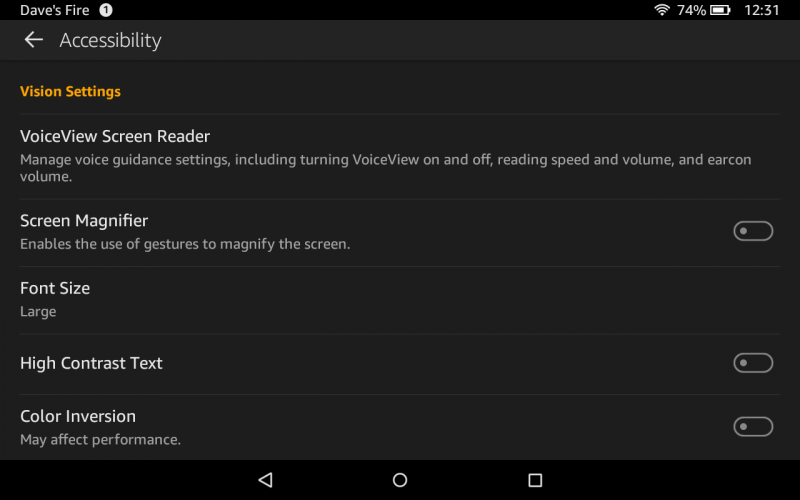 That's it. Go and try "Large" and "Huge" to see which works for you. Easy enough!