My sister sends photographs in the text messages she sends me from her iPhone, but on my iPhone I can't see how to do the same thing. Is there some trick to this, or something I need to enable on the iPhone to text message photos? Or is it something I need to sign up for with AT&T?
And now, a brief lesson on how text messaging works. 🙂 Basic text messages are sent using a protocol called SMS, which stands for "simple messaging service". It's rudimentary, only allows a max of 160 characters in a message, and it only supports characters. No photos, no video, no music.
Enter MMS, "multimedia messaging service", which adds support for a variety of different media types, including, you guessed it, photographs and pictures.
By default, your iPhone, like just about every other mobile device that supports text messaging, is set up to work with SMS, the text-only version of messaging, hence it being called "text messaging", now that you think about it! So to be able to send your sister a photo via text message, you need to enable MMS on your phone. Fortunately, AT&T's not involved.
Here's how to tell: Go to send a text message and if it looks like this on the text input field, you've only got SMS configured:



If you have a tiny camera icon to the left, you have MMS enabled and you're ready to go. Before I show that, however, let's assume you don't have it enabled and I'll quickly show you how to turn it on.
Start by tapping "Settings" and scrolling down to where "Messages" is shown: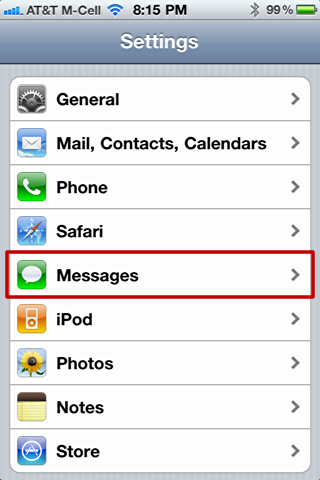 Tap on "Messages" and you'll see quite a few options: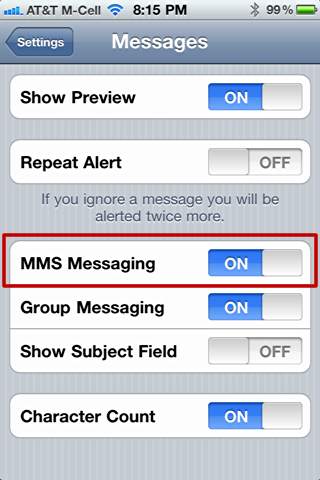 Who knew, eh? The most important setting for your purposes is "MMS Messaging". Tap on it to change the setting to "ON" then go back to the text messaging application. It'll look like this now:


See the little camera icon on the left of the text message area? That's because you've enabled MMS! Tap on it and you'll see the following options: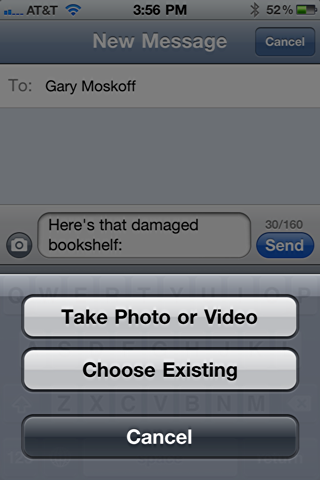 I'll demonstrate with a photo I've already taken by clicking on "Choose Existing". It'll then show you all the photos on your phone, pick one:


That's the one you want? Tap on "Choose" and it shrinks down and shows up in the MMS input area: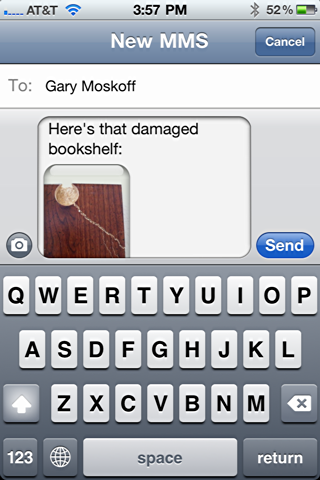 That's all there is to sending photographs or pictures as text messages (well, as mms messages) on your iPhone.
One thing to note: when it's actually sent, it breaks up into text + photo + text, as you can see in this slightly chopped pic: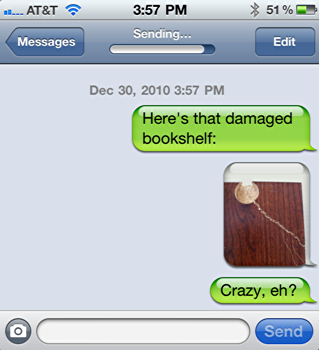 Hope that helps you send pics to your sister. Now, are you getting feedback on the guys you're dating? Be honest!