Ever since tracking cookies became software non grata in the online privacy world, Google has been trying to implement an alternative that would help the company better target ads to viewers. The latest version of Google Chrome now includes that tracking system; here's how to see what settings you have and disable key features to increase your privacy.
Google has always been on a proverbial tightrope, balancing the desire to ensure users have maximum privacy and the desire to allow advertisers to accurately and precisely target browsers by utilizing their very specific browsing and searching data. The challenge is to uniquely identify individuals, which Google has historically done with a combination of tracking cookies (unique snippets of data that are invisibly sent to every single page you visit) and us users conveniently logging in to the Google system to improve our experience.
A few years ago, however, the overwhelming tsunami of cookies that were included when users visited popular websites and the subsequent implication for privacy became too much. First, the European Union prohibited tracking cookies then it became a law in many nations aimed at user privacy. Google's ad team had a separate plan, however, and that new method of tracking us for the purposes of advertisers being able to more accurately target us is now implemented in the latest version of Google Chrome (v116 and above). Good for advertisers, not so good for those of us who seek to retain privacy.
Fortunately, there are settings in Google Chrome that allow you to disable these settings that are, no surprise, enabled by default. Let's have a look…
GOOGLE CHROME SAFETY CHECK
Start by going into Settings, then Privacy and security (or go to chrome://settings/privacy if you prefer). It offers something called Safety Check, which is a good feature to run at least once every few months:
As a starting point, I recommend you click "Check now", but notice the "Ad privacy" link and the "Security" link. We'll visit both of those in a moment or two. For now, click on "Check now" for that safety check.
If you're behind on your Chrome updates, this is one place you can get an update. You can see that I'm fine with Updates, Safe Browsing, and Extensions, but have 3 weak passwords according to Password Manager. Click on the Password Manager result and it'll offer more information through Password Checkup: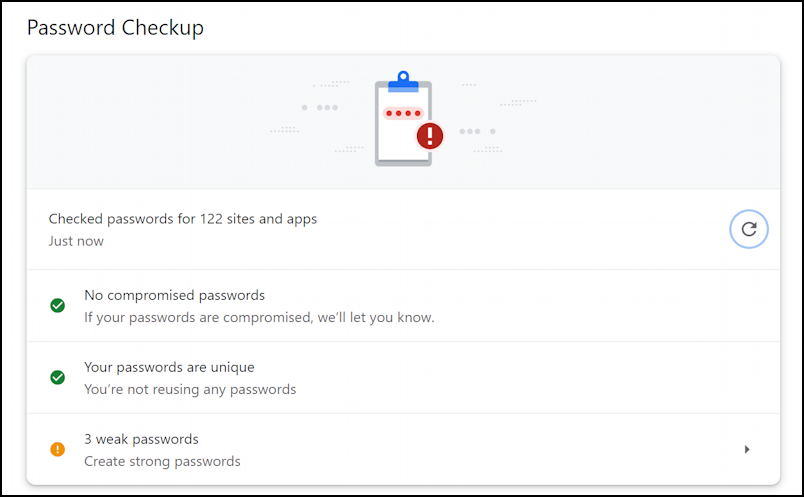 You can see the three areas where it analyzes saved passwords: whether they're compromised, whether they're unique and distinct, and whether they're complex or "weak" (e.g., easier for software to guess). Want to see which of your own passwords have been flagged, if any? Simply click on the "weak passwords" warning and it will list them. Safety check. Useful.
Now, back up and choose "Ad privacy" from the Settings > Privacy and security page.
GOOGLE CHROME AD PRIVACY
This is where changes have been made to your ad privacy and Google Chrome, though there's nothing that indicates as such:
There are three areas to consider: Ad topics, Site-suggested ads, and Ad measurement. All seem fairly benign but if you are seeking to retain more privacy when visiting Websites, well, these should all be carefully considered in terms of the pros and cons. For each, you can click to learn more.
Starting with "Ad topics"…
While you can block specific topics, the more important concept here is that when you visit a Web site, the topics you've been exploring prior to visiting that site are made available to the site so it can serve up better targeted advertisements. In other words, if you're exploring some personal health issues then come to an online gaming site, the latter site will be informed of your prior site visits. Rather alarming if you seek to remain a bit more anonymous online. Solution? Disable this by clicking on the blue slider: It's grey if it's OFF.
Site-suggested ads is another that's worth carefully considering, as described on that specific page:
This is the other half of the first setting: "Sites you visit can determine what you like and then suggest ads as you continue browsing". Hard to figure how these are two separate settings, but, again, I suggest you disable this feature by clicking to turn the blue control to grey.
Finally, the one that seems the most benign but still is something to give pause: "Ad measurement".
You can read the details, but this seems to be the most concerning in terms of overall Web privacy to me. Again, I recommend you disable this one. Remember, with all three of these Ad Privacy settings, you can always re-enable them if you find that you're getting odd and irrelevant – or even annoying or embarrassing – ads when you visit your usual Web sites. You probably won't, though.
One more area before we wrap up. Go back one more step to the main Privacy and security area and choose "Security".
GOOGLE CHROME SECURITY SETTINGS
Click on "Security" and it offers an easy way to pick your optimal security setting. It's rather verbose, however:
For most people, Standard protection is fine, but notice here that it duplicates the Ad measurement setting and the Password checkup scan for exposed passwords. You can see my settings. Hang out on the Dark Web or like to explore questionable and spammy sites (like casino sites)? Switch it up to Enhanced protection. Otherwise, go through all of these steps and be careful out there!
Pro Tip: I've been writing about Google tools forever! Please check out my extensive Google tools help areas while you're here, for lots more useful tutorials and guides! Thanks.