I have been using LinkedIn for a while now and am starting to get invitations from people who appear to be "networking sharks" or something: they just want to have tons of connections. But I don't know them and I don't want to be connected, but I also don't want to be rude. If I reject them, do they get any sort of notification?
That's a great question, actually, and one that should be answered in an obvious way on all social networking sites. I have seen the same query about MySpace, for example: if someone wants to be friends with you but you, uh, don't like them, are you snubbing them by clicking on the "deny" button?
Rather surprisingly, though, most online networking sites don't tell you the result of this particular action in advance. LinkedIn, which has rather mediocre online help in the first place (where's their search system?) says this in its privacy section about rejecting unwanted invitations:
"If you receive invitations from people you'd rather not connect to, then it's perfectly alright to ignore or politely decline the invitation. For example, you can let the sender know that you prefer to connect only to people you know well, provide some other reason, or decline without giving any reason at all. You can also simply ignore the invitation, although you may subsequently receive an automated reminder. You can also select the option to "Decide Later," which will prevent any future reminders from coming to you."
Do they get a notification if you reject them? Truth be told, as far as I can ascertain from LinkedIn, the inviter would get "clues" that you rejected their invitation, like having invited you to link to them, but not seeing you as a connection or as a pending invitation, but they wouldn't get an explicit rejection message via email unless you included a reason for not linking to them when you responded.
For example, if I look at my list of Invitations Sent, check out entry #3: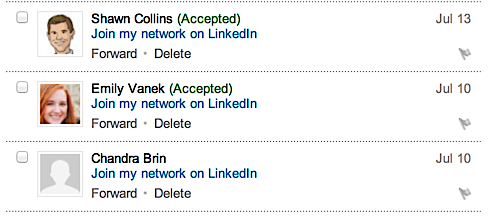 You can also check out your
blocked invitations
, which would indicate that others didn't just reject your connection, but asked to never have you darken their digital doorstep again. Not good! Fortunately, mine is empty. 🙂
For any given invitation, of course, there are also a number of different actions you can take in response, though the most common action is probably to just ignore the invitation and let it eventually expire. No acceptance or rejection, no worries about notification, and no lingering invitation from someone you would rather
not
be formally connected with. You can also click on "Decide Later" which is basically the "ignore and expire" button.
I hope this explanation of how LinkedIn handles rejected contacts is helpful. If it were up to me, they'd have a far more obvious explanation of what happens when a connection is rejected so you would have a reasonable expectation of whether the other party is going to be explicitly or implicitly notified upon rejection, but perhaps that'll show up in the next few weeks now that we've pointed the problem out?