My cousin travels the world and often sends me photos of places that "I should recognize". I usually don't. Is there a way to use Google Lens on my Android phone to identify these locations from his photos so I can sound more worldly?
They say that the world is a smaller place since the advent of air travel, and I have to agree. A hundred years ago it was a big deal if someone travelled across the state, but now people jet to far-flung nations for a long weekend. Once we get back to supersonic travel (it's coming!) we're going to see people travel even further, Paris for lunch, Cairo for dinner and a hot nightclub,  breakfast in Istanbul, then afternoon tea in Beijing. Okay, maybe it won't be quite that fast, but it's no surprise that what seemed to be foreign and exotic has become a bit more commonplace as more people travel.
But that also presents challenges as few of us are knowledgeable about all the famous landmarks in all the nations of the Earth. You might be pretty hip to famous spots in your own country, but 5,000 miles away? That's another story. Then there are places like the list of UNESCO World Heritage Sites: how many of those would you recognize? Certainly, it sounds like it's become a bit of a challenge with your footloose cousin and you.
Fortunately, Google Lens can definitely help. In fact, it's pretty remarkable how good it is at identifying a place from a photograph on your computer screen or saved into your photo album. To demonstrate, I've loaded up this photo on my computer's screen:
An absolutely beautiful bridge, but where is it? To find out, I'll use my Google Pixel 6 Pro and Google Lens to identify it. You can do the same if you want to see how it works…
HOW TO USE GOOGLE LENS TO IDENTIFY PLACES
There's probably a search bar on the bottom of your Android home screen just like I have: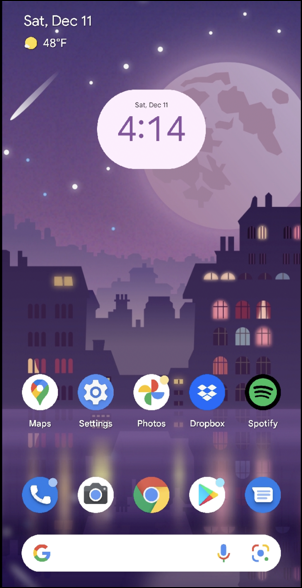 The tiny square on the lower right with the dot in the middle might seem like a shortcut for scanning QR codes, but it actually takes you directly to Google Lens in the Camera app. Tap on it.
You can see that it's super easy to search Google Lens with an image out of your photo library or a screenshot, but you can also tap on the camera button on the top portion and, as it says, "Search with your camera".
I'll do that…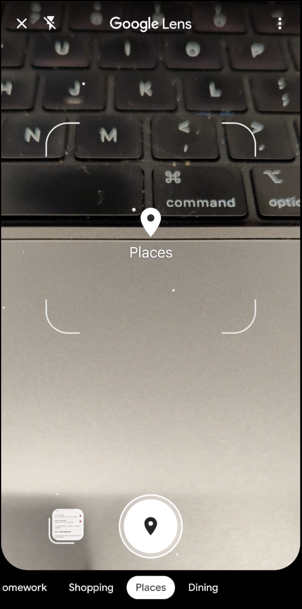 Here's the one trick you need to know: Swipe along the bottom to choose "Places" as shown. Then point at the photo you want to identify and tap on the camera shutter button:
I had the camera horizontal to better match the image orientation but the app can't rotate buttons and labels, so it's more than a tiny bit confusing. Still, even sideways, it actually does identify the bridge photo (this one's slightly different to the one I showed earlier, but that doesn't throw off the location identification!).
A tap on the camera button and a small window pushes up from the bottom:
Mission accomplished. It's identified the bridge and offers up a range of options.
IT'S THE OLD MOSTAR BRIDGE IN BOSNIA
Swipe up on the pane that's shown up and you can see matching photos:
As you can glean from the labels below the various photographs, this is the Old Mostar Bridge, in Bosnia. It's also a UNESCO World Heritage location too. Tap on one of the matching images and you can learn quite a bit more about this breathtaking stone arch bridge:
Armed with this information, you could easily respond to your cousin with a snappy rejoinder about the Mostar bridge and how it's been standing since the 1600s, rather astonishingly. They'll be shocked you know it, and you can quietly tuck your Android phone back in your pocket, knowing you've won that particular battle of wits. 😀
Pro Tip: I've been writing about Android since the beginning. Please check out my rather extensive Android help area while you're visiting for lots more useful tutorials and guides! Thanks.