I work with a lot of companies on my Facebook page and often post in conjunction with them. What's confusing is that then on the posts instead of a time stamp, I get "paid partnership" and can't figure out how to identify the proper permalink to send my partners. Why would Facebook do this? How do I find the darn link?? HELP!!
Let's start with some context. Facebook has been buffeted by constant accusations of doing a poor job disclosing what's sponsored content and what's just a user's post. They change things and then something new pops up. Heck, individuals who want to sell a product or service post sponsored material or [sometimes even crass] commercial content without identifying it as such. You know who I'm talking about, and you've probably reacted as I do too: Just unfollow them.
Still, if you want to do the right thing and properly disclose, then more power to you. The Federal Trade Commission (FTC) will be happy you decided to follow the laws about commercial disclosure too, but let's just skip that for now. Because in its zeal to share you identifying a commercial paid partnership on a Facebook page, you end up losing out on something darn helpful: The actual URL of your post.
On regular Facebook posts it's easy; just right-click on the date & time stamp and you'll have the permalink to that post on Facebook. We people who work with commercial partners use this feature all the time to share links.
But on a post you've identified as paid and indicated your publishing partner, well, let's have a look:
Where on this post it shows "Paid Partnership" at the top you'd usually have that date and time information and it'd be a link to the permalink. But in this case… well… what to do?
Turns out you have to go digging for that link. To do so, click on the "•••" link on the top right…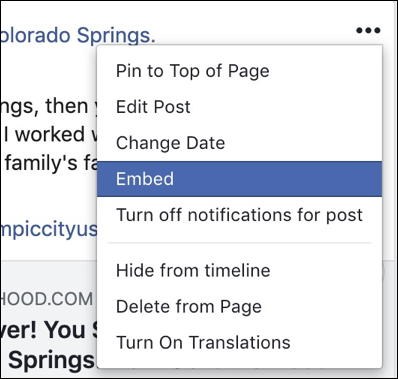 As shown, you want to choose "Embed", even though you're not going to actually embed the post.
This pops up a tiny little window with some HTML code, but don't panic:

Now you can extract the permalink URL from the iframe embed code, but that's work and then you have to convert all those %3A into '/' and it's a pain in the booty. Instead here's the secret: Click on "Advanced Settings" and you'll jump over to the Facebook Developer's area and get a big display of all the elements of this post:
Lots to look at there, and notice that the embedded version loses the "paid partnership" info in favor of the timestamp (this says "about a week ago") which does lead to the permalink for this post. But it's easier than that. Let's zoom in on the top left of this image:

And there ya go, your permalink for this particular partner post on your Facebook page. You can check it out by clicking here: Visit Colorado Springs post on GoFatherhood Facebook page. See? It works. Cool.
Pro Tip: I've got a passel of Facebook help here on the site, please check it all out while you're visiting. Thanks!