My friend told me their address, but I don't have a zip code and I'm pretty sure that their street name is only a fragment since there's no "Street", "Ave", "Way" or similar. Is there an online tool to help me turn this fragment into a full US Postal Service address so I can send them something?
There are a lot of ways to isolate and identify a specific location in the United States of America, with one of the more obscure being the fascinating what3words, which uses the enormous size of the English dictionary to identify specific locations with just three words. For example, you can do the research to identify what famous landmark is at "slick.junior.reveal". Unfortunately, neither FedEx or the US Postal Service are delivering mail to a what3words address as of yet, so you still need the more traditional number, street, city, state, and zip code. Prior to 1969, when zip codes were introduced, you could have omitted one, but nowadays the zip code is your best guarantee it'll reach your recipient. In fact, in many cases, name + 9-digit zip is sufficient!
What the post office has to do is disambiguate, a fancy word for ensuring that there's no ambiguity in an address. If you send something just labeled "Springfield", which of those cities are you talking about? There are 41 Springfields in the United States!
The good news is that the US Postal Service Web site has some really slick tools to help with the process. I'll demonstrate by trying to create a full and proper mailing address when I only have "130 main, blackfoot, idaho" as my starting point.
HELPFUL ADDRESS TOOLS AT USPS.COM
Go to USPS.com and you can find quite a few useful tools under the "Quick Tools" menu choice:
For our task, "Look up a ZIP Code" is the order of the day. Click on it and you'll see there are three primary options:
With this tool, you can finally identify things like the city that lucks out with the zip code 12345. That's a job for "Cities by Zip Code":
Turns out it's Schenectady, New York. Notice that the Post Office also suggests that you avoid calling it "General Electric, NY" (it's famous for being the HQ of General Electric, if you're wondering about that) or the awkward abbreviation "Schdy, NY".
All good, but what about expanding that Idaho address?
FIND ZIP CODE BY ADDRESS
For address completion, you can use the "By Address" option and enter the information you have: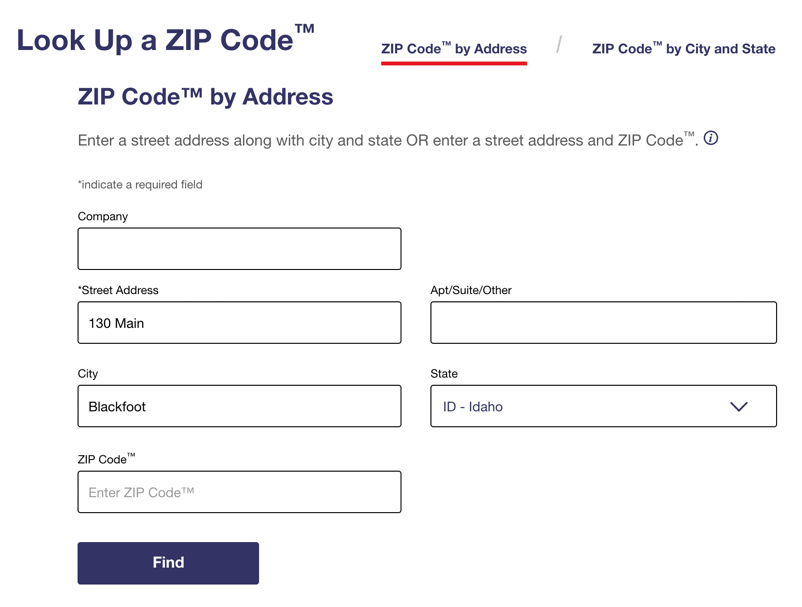 Seems a bit confusing that it prompts for zip code when we don't know, but it turns out you could also enter a street address and zip code to find the city and state too. Enter as much information as you have and click "Find".
Like magic, it figures out the full and proper address: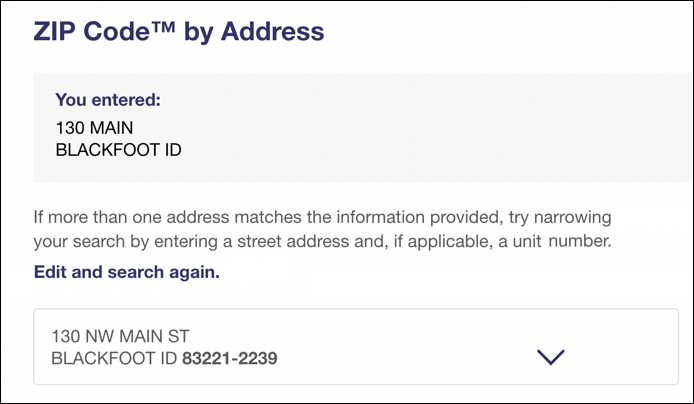 As you can see, 130 Main has transformed into 130 NW Main St. along with the zip code added: 83221-2239.
That's it. You can use this handy tool for address completion and verification even if you're going to ultimately be using UPS, FedEx, DHL, or any other carrier. If you don't care about the 9-digit zip, by the way, you can also use Google Maps for some subset of address completion. Here's what it offered up – along with a map and street view photo – for the same fragmentary address: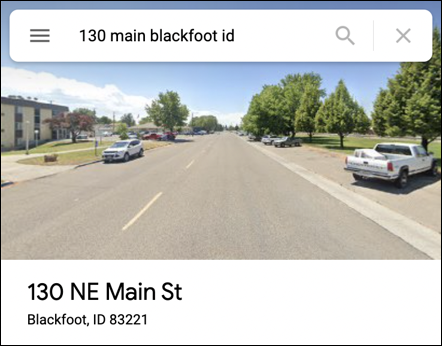 As always with the Internet, there are a variety of ways to accomplish a task!
Pro tip: I've been writing about Internet, Web, and computing basics for quite a few years now and have amassed an enormous library of free help tutorials and guides. Why not check out my Computing Basics Library for more useful and interesting tutorials while you're here? Thanks!