Dave, I hooked up my Sony PSP to my Windows PC and, darn it, accidentally deleted everything on the memory stick. Now I'm stuck. How do I recreate everything?
If you're okay with having a complete rebuild, then your best bet might be to just reformat the Memory Stick on your Sony PSP directly. That's done by going to Home, then Settings, then System Settings, then find Format Memory Stick and select it by pressing the "X" button. It'll build all the files and folders you need.
Failing that, or if you have some content still on your 'stick and want to avoid a complete reformat, hook your PSP up to your PC (or Mac, for that matter), then make sure that there's a folder on the very topmost level called "PSP".
Within that here's what you should end up with: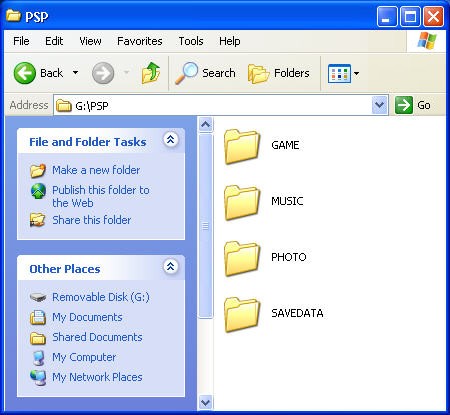 While you're at it, you can easily drop JPEG images into the PHOTO folder and MP3 files into your MUSIC folder.
Done? Click on the PSP disk on your Windows screen and select
Eject
(or if you're on a Mac, use control-click
Eject
instead). Now unplug your PSP and you should be back in business!