Ok I am about ready to throw my Sony PSP out the window. i have done everything your directions have said and i cannot get music to play on it. i know it stores it to my memory card because it uses up the memory. i made the music folder and dragged the mp3 files into it but it refuses to play on my PSP. i do not know what else to do. please help me..
This is a distressingly common question here at Ask Dave Taylor so I thought it would be useful to detail exactly how to get music onto your PSP and play it.
Step One: Make MP3 Format Audio Files!
First off, you need to have music in MP3 format (the PSP supports other music formats, but the majority of reports I get are that they either don't work or are quite difficult to set up). If you are ripping your own personal music CDs, you might well find that your music library is in a different audio format (Apple prefers AAC and Windows Media Player prefers WMA format, for example).
Here's how to tweak each of these programs to save your future rips in MP3 format:
• MP3 audio CD rips from Apple iTunes
• MP3 audio CD rips from Windows Media Player
If you find yourself with music files that are in the wrong format, then you need to use a format translator. Two applications that look like they'd do a good job in this department are Switch (for Windows) and Music Man (for Mac OS X). In fact, you can read a tutorial about Switch here: How to convert WMA audio files into MP3 audio files.
Once you have the files in the correct format, check that they work properly by double-clicking on one of them. Your preferred audio player should launch and, hopefully, you should hear music out of your computer speakers.
Step two: Connect!
Hook up your Sony PSP to your computer via a USB cable. Turn on the PSP and put it in "USB CONNECT" mode (it should display the words "USB CONNECT" on the PSP display during the entire time you're transferring files, and plug it in if you don't have a fully charged battery).
If your computer complains that you are connecting a high-speed USB device on a low-speed USB port, try unplugging it (which is to say, take your PSP out of "USB CONNECT" mode, then unplug the cable from the PSP) and plugging it into a different USB port. Somewhere on your computer you have a higher-speed port, which you should certainly use if you can. If not, or if you can't figure out which port is USB 2.0, then you should be able to safely ignore the warning message and proceed anyway. Once you rehook up your PSP, do make sure you remember to put it back into "USB CONNECT" mode).
Your PC or Mac should just magically show a new removable hard disk on the desktop (or, if needed, go to My Computer to find it). On a Mac it'll probably show up as a device called "Removable Drive", but on a PC it can show up as drive E:, F:, G: or whatever else is the next available drive name on your computer. If it doesn't show up and you're running Windows XP, then you might need to search for the proper driver, which is hopefully an option. If you're running an earlier version of Windows, you're kinda on your own because earlier versions don't support pluggable hard drives. There's an untested Windows98 driver you can download from Interia.pl, but I haven't heard from anyone whether it actually works or not.
Once your PSP shows up on your computer, you should be able to navigate the different directories to find a folder called MUSIC. That's where you want to drag and drop your MP3 files, so do so now, realizing that each music file typically takes up 2-3MB of space, so the default 32MB Memory Stick Duo that came with the Sony PSP is only going to be able to hold about one CD of music before it's full, and that's assuming you don't have any game saves on it. Instead, you might consider buying a bigger Memory Stick: I have a 512MB one that gives me plenty of space and it didn't cost much (Amazon.com, for example, sells this funky green 512MB PSP-compatible Memory Stick for less than $40, with free shipping).
(If you don't have a "MUSIC" folder on your PSP then you might need to have the PSP unit itself reformat the memory stick (rather than your PC) so that all of the folders are setup properly. You can learn how to do this here: reformat your Sony PSP memory stick)
Step Three: Listen!
Once you've copied your music files onto your Sony PSP device, you should be done. Take the PSP out of "USB CONNECT" mode, then unplug the cables, hook up headphones so you can hear the PSP audio, and then go to the MUSIC area on the PSP.
One of the items listed in "MUSIC" is something called Memory Stick. Your songs are in that folder. To get to them, move the highlight bar to "Memory Stick" and press the "X" button: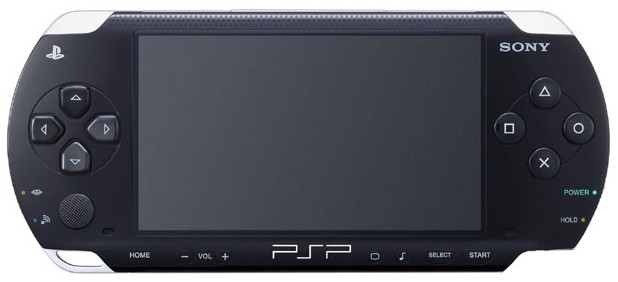 You can see the "X button on this photo: it's the lowest of the four buttons on the right side control area.
You should then move into the Memory Stick music area and see all of your MP3 files. Click on one to play it!
Hopefully these detailed instructions will help you avoid tossing your PSP out the window. If not, well, let me know when you'll be tossing it and maybe I can catch it and use it as another test device. 🙂
Updated to explain what to do if you don't have a "MUSIC" folder, based on comments added to this article.