I have an iPod that I've been using on my Mom's macintosh, but now I want to use it on my PC. How do I get my PC to see the iPod, and then how do I connect the two so I can transfer stuff?
When you're used to working with the Macintosh, where the core software for working with iPods is installed with the OS itself, it's frustrating that there's a bit more effort involved in getting the PC to see and work with an iPod.
First off, though, the bad news: you're going to have to reformat the disk on your Mac-bsaed iPod to get it to work with the PC. Once you've done that, though, it'll work for both Mac and PC. I'll document exactly how I dealt with the siutation your'e talking about when I got my shiny new iPod Video so you can see how that might not be a huge crisis.
The first step – and if you don't have a Mac or an iPod that's already full of music, you can skip this step – is to connect the iPod to your Mac then sync the two. Now you have a complete copy of the iPod data on the Mac and won't have to panic when it comes time to reformat the iPod's disk. Right? 🙂
Now, plug in the iPod to your PC and you'll doubtless see an error message like this:



Since you probably don't have the original CDROM you can just grab the software from the Apple site as the dialog box suggests. Go to the
Apple iPod Download Center
to grab the necessary drivers and utilities for your computer, install them, and reboot.
Now you should be able to install iTunes if you haven't yet (you need iTunes to work effectively with the iPod) by grabbing it from the Apple site too. You can easily download it from
Apple iTunes Download Center
.
Start up iTunes once it's installed then hook up your iPod to your PC. You'll now see this scary message: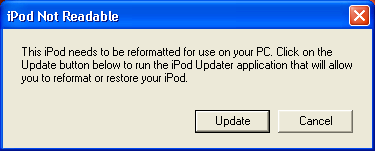 Click on "Update" and you'll be taken to the iPod Updater: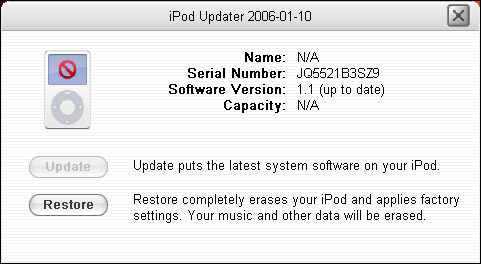 (Your version number might vary slightly as Apple's constantly tweaking the OS on the iPod: this is the version as of mid-February, 2006).
Click on "Restore" and it'll wipe your iPod clean and reformat the disk to work with Windows XP, which is – believe it or not – what you want! This takes a few minutes of time.
The next (and last) step is for the iPod Setup Assistant to run. It gives you a chance to name your iPod and set a few important preferences: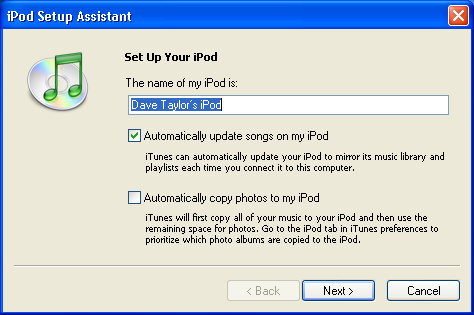 You can see the two options you have here: I have the app automatically sync the songs on my PC with my iPod (though it doesn't work in the other direction: if I add songs to my iPod from another computer, I need to
manually
copy them from the iPod onto my PC when I want to complete the transfer).
Once you've set things as you'd like, click on "Next" and it'll actually format and configure your iPod. Then you're done! Congratulations.
If you want to restore all that music you pulled off the iPod just before you reformated it, eject the iPod from your PC, unplug the iPod from your PC and plug it back into your Mac. Now it'll show up in iTunes, but won't autosync. Simply drag and drop the music you want to restore back onto the iPod name on the left side of the iTunes program.
Hope that gets you up and running!