Okay, since you wrote about Spotlight on the new iPhone OS 3.0 (see How to work with Spotlight on your Apple iPhone 3.0), can you also explain to me how the heck the new Voice Memos application works? As far as I can tell, it's the only other new app included in Apple's iPhone 3.0 upgrade but I can't figure out how the heck it works…
I was pretty psyched when I did the 3.0 upgrade to my iPhone OS and found that they'd included a Voice Memo application because I Figured that if there was one company that would put the effort into creating an application that both looked cool and had lots of useful functionality, it'd be Apple. Well, Voice Memos looks cool, but it's pretty darn puzzling how to use it if you aren't willing to randomly tap and try things out.
Fortunately, I am.
And so, here's how to use this slick little app that lets you do a lot of interesting stuff, including record audio and then email it to someone ("Susie, can you transcribe this blog entry, please?")
Start out by tapping on the app itself:



It'll launch and show you, well, an old microphone and a VU meter on the bottom: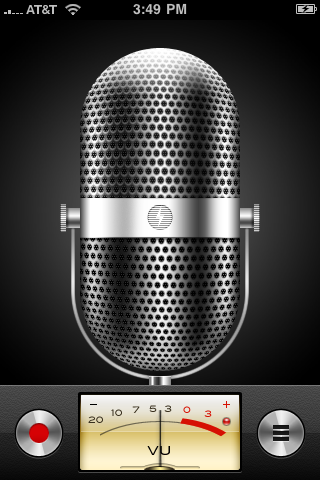 Ready to record your first memo? Good. Tap on the little red button on the lower left and you'll be recording: start talking!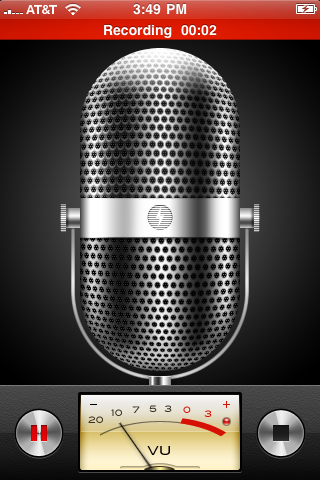 If you want to pause the recording, tap on the red button on the lower left again. Ready to stop recording? No worries, tap on the black button on the lower right instead.


Here's where I think it gets confusing: there's no indication that there is now a succesful recording and there's no indication of how to find any previous recordings you might have made.
The secret button tap is what was just the stop button a few seconds ago. I think that the icon is supposed to be a "list of items". Tap on it and you'll suddenly be in a list view:


As you can see, it's currently playing the recording back (in speaker mode: tap on "Speaker" on the top left if you want a bit more privacy). You can delete it by pressing "Delete", but if you want to email it to someone, tap on "Share" and…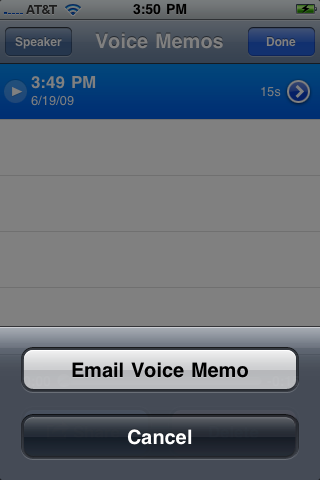 The fact that there's this intermediate step makes me wonder if there are going to be other ways we can share this audio (like "Store in iTunes Library") but so far, the only option is to send as email.
Tap on "Email Voice Memo" and: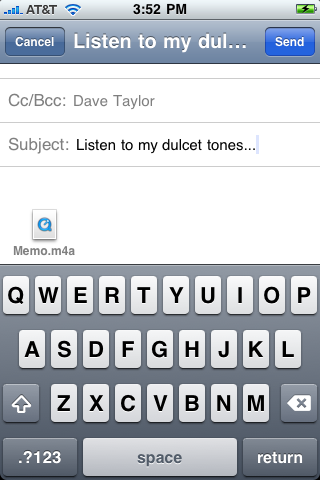 So the interface is a bit more complicated than you may expect, and it wouldn't surprise me if Apple silently tweaked this particular app to make it a bit more logical, but at least you don't have to tap randomly and can instead use Voice Memo like a pro now!