I just learned about Google Webmaster Tools and am psyched to learn how to use them. My first puzzle, however, is how to "verify" my site with the tools. Can you explain that, please?
Google is a great corporate example of what sociologists call enlightened self interest, and its Webmaster Tools demonstrate that neatly. On the surface, how nice, Google's giving us a set of tools to help us keep our Web sites clean, neat and correct. Underneath, however, Google's serving its own interests too: the Webmaster tools help enforce what it believes are best practices for site design and layout, helping minimize errors encountered by the Googlebot.
Nothing wrong with that, of course, and I am a proponent of just about every tool Google makes available, from AdSense to Analytics. It's just worthwhile to understand why a big corporation like Google offers tools gratis…
Now, on to the Webmaster tools.
Log in to your Google account, and you should probably see something like this:


I hadn't realized that I haven't verified this very site, Ask Dave Taylor, so I'll do so by clicking on "Verify" next to the listed domain name. Here's what I see: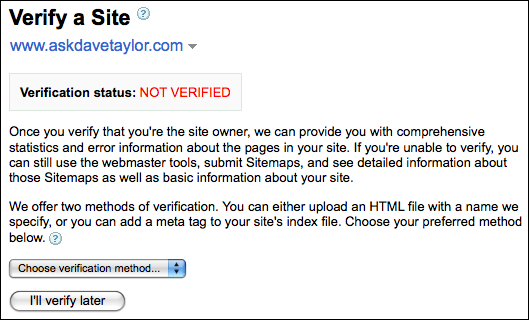 As you can read, there are two ways you can verify that you own the site. You can either add some code to the home page or you can upload a file with a specified (randomly generated) name. I'll choose the former by clicking on "Choose verification method…" and selecting "Add a meta tag":


The meta tag it wants me to add to the home page of the site is:
<meta name="verify-v1″ content="YmMFII0ipFLcraYhOtpBkEMzX/5PUA77DyaYRsE3oYY=" />
I add this to the "index.html" page on this site and click on the "Verify" button:



Done! Sweet!