I am a newbie when it comes to digital photography and while I've finally figured out how to get photos onto my Dell laptop from my Sony camera, I can't figure out how to take the next step and get actual prints of my favorite pictures. I don't want to actually buy a photo printer, I just want to send them to the local photo store to make some 4×6 prints. I'm running Windows 7 and my digital camera is a little WX150.
You've identified one of the more tricky parts of digital photography, actually: going from digital to analog. If you want to have a screen saver, email photos to your friends and family, share them from an iPad or other tablet or post them to Facebook or what-have-you, it's easy. But once you cross the divide from what you're seeing in digital form (even on your camera itself) and want to have a print that you can hold, it's definitely more work and more prone to be confusing, neophyte or expert.
It's so difficult that some camera manufacturers advertise that their camera can talk directly to a photo printer or can upload photos to a printing service. There are also self-serve photo printing systems at retailers like Target.com that let you plug in your camera's SD Card or other memory card and print directly from that. Helpful, but it's not "order from home" convenient.
Fortunately, Microsoft's got you covered in this case with Windows Live Photo Gallery. Don't have it yet? You can grab it as part of the must-download Windows Live Essentials. Click and download. It's worth it.
Great. Now open up the photo you want to print with Photo Gallery and look on the top left of the window. It'll look like this:


Lots of cool things you can do to tweak and modify your photo (try out the different color filters, for example), but to make a print, click on "Create" on the very top. Now you'll see the Create options: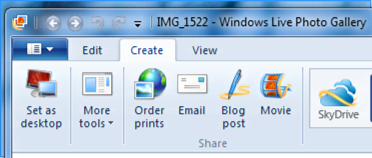 You can guess "Order prints" is your choice, and it is! Click on it if that's what you want to do. If not, notice you can share to Facebook, copy it up to your SkyDrive account, and lots more, right from within Live Photo Gallery. Easy enough!
There are a number of different services that Photo Gallery works with, listed so you can pick and choose: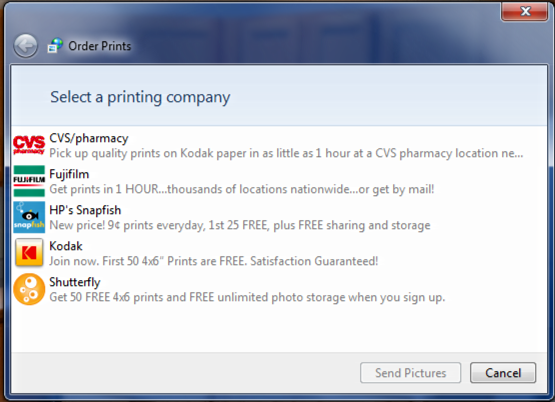 I have had very good prints from both Shutterfly and Snapfish, and notice that the Fujifilm entry indicates that they work with thousands of different locations throughout the United States to offer one-hour printing. Nice.
Let's try CVS Pharmacy, though, as that's pretty widely available too and it's quite inexpensive.
Click on it then click on "Send Pictures" (which, yes, means you could actually select a half-dozen or more photos before you choose "Order prints" and submit them all in a single step if you'd like).
A warning pops up: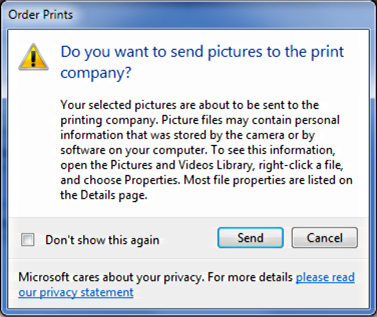 A good reminder, though I bet your pics are pretty innocuous. If you do have naked pics of babies, however, or anything that anyone ultra-paranoid might find questionable or inappropriate, take heed of this message.
All clear? Click on "Send" and proceed…
Can you see the price here? $0.19 for a 4×6 print. That's it. Well, maybe a few pennies in sales tax added at the end, but certainly if you want to print a few dozen pictures, it's not going to cost very much!
To proceed, click on "Next" and you'll see that there are two delivery options:
So even though they advertise one-hour printing, in fact they can mail the prints to you too, for a few dollars postage. Let's pick it up in the store, though, because I assume you're like me and have no patience for this sort of thing!
Choose that, click "Next" and you'll be prompted to pick your state or enter your zipcode: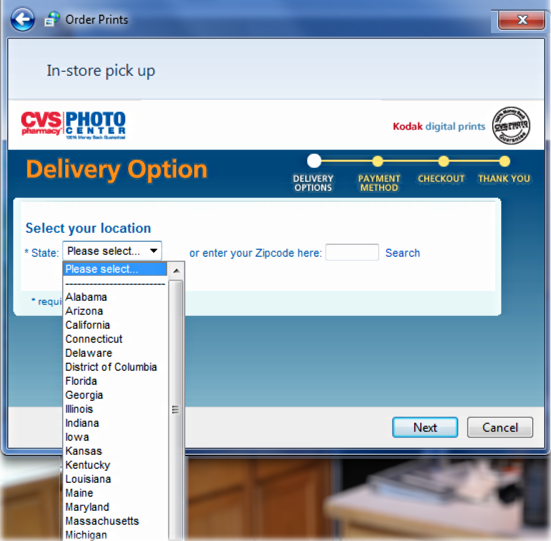 Ahhhh… as it turns out, there are no CVS Pharmacies in Colorado, where I live. So this is as far as I can go.
Fortunately, there are also a lot of online services that let you upload via their Web pages, including
Walgreens
, as you can see here: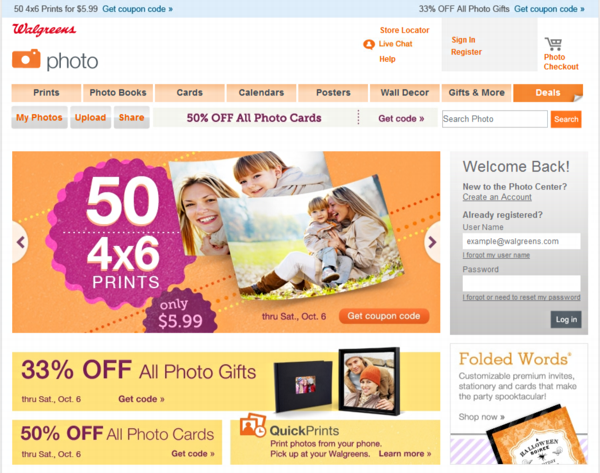 In this case, best bet is to make all your photo edits in Windows Live Photo Gallery, then create a new "print me" folder and save every image into that folder. Then when you're on the Web site and click "upload" it's easy to identify every single image you want to send to their service and print.
Either way, it's not too difficult once you start poking around. Good luck to you!