I've been contemplating buying a new iPod Nano since the FM receiver capability would help me listen to the TV programming at the gym while I work out. Before I take the plunge, though, can you show me how the FM radio features work on the 5th gen iPod Nano?
I've been most curious about the FM radio features of the new iPod Nano for a while, and haven't bought an iPod for at least a few years (somehow I'm thinking "Bless me, Your Steveness, for I have sinned", but let's not go there!) so I bought one so I could help demonstrate how to utilize all of its interesting new features, including FM radio and video recording.
First off the docket, based on your question, is FM radio, which works as simply and elegantly as you would expect from the Apple UI team. Well, to be fair, the center button is a bit overloaded (as you'll see) but generally I found that I could figure out almost everything just by poking around…
The main menu is a bit different from earlier generation iPods: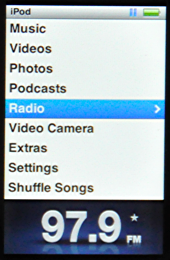 Move down to the radio section and it'll show you the currently tuned station. Here I'm listening to 97.9FM.
Click on the "Radio" option and you'll immediately go to the listening screen: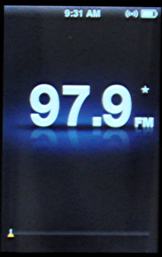 Here's where it gets a tiny bit tricky. Spin the dial clockwise (louder) or counterclockwise (softer) and the volume bar shows up: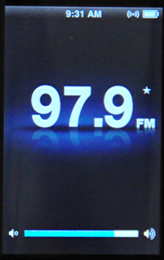 Tap the center button and the tuner shows up: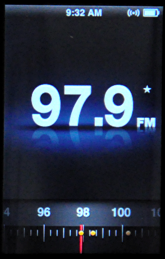 Now, while in Tuner view, spinning clockwise/counterclockwise will change what station you're listening to on the FM mode of your iPod Nano. Tap the left or right side of the wheel and you'll hop from preset station to preset FM station (in both modes, as far as I can tell).
Now, while you're listening to the radio, tap the
bottom
of the wheel and you'll find that you've paused your live radio. Sweet!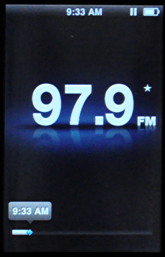 Want to now click forward to another favorite station while you've paused the current FM station? Not so good:


It says "Changing stations clears your paused radio", which, really, makes sense. It can store up to 30 minutes of paused radio, apparently, so it's perfect for not missing that great tune while negotiating with a bus driver or explaining to a homeless person why you really can't give them your Nano out of the goodness of your heart. 🙂
Oh, if you see this: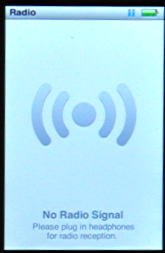 It means what it says: you can't listen to FM radio on your Apple iPod Nano 5G without having headphones plugged in as the headphones act as the antenna. I imagine that different headphones would offer better reception than others, but haven't tested it sufficiently to ascertain whether longer/shorter or thicker/thinner wires make a difference.
Once you find a station you like, tap and hold down the middle button until you see this: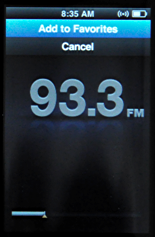 You can bookmark or favorite it by again tapping the middle button. If nothing else, I have saved the frequencies of the three FM broadcast units on the TVs in my own gym…
Once you're listening to the radio, if you tap on the top of the wheel (the "menu" option) you won't go back to the top menu, but rather to a radio-specific menu: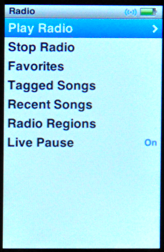 Choose "Favorites" and there they are: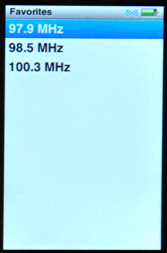 In another posting I'll show you how the radio program tagging works too. It's pretty cool!