I'm just getting into Twitter and see that lots of people upload photographs to the site. Cool, but since I don't have a smartphone, am I excluded, or i there a way to upload photos from the twitter.com site too?
Twitter was designed around the capabilities and limitations of cellphones, actually, and was originally a text messaging service, but it's grown since then (obviously!) That's where the 144-character limitation comes from, short text messages. I think that the service will always have a bit of a bias towards mobile devices but as someone who often uses the Web-based service at twitter.com, I am impressed with how much better it's become over the last year or so.
In fact, one of the new features that was just added to the Twitter.com interface is the ability to upload photos and not only have them go to a photo hosting service but automatically have the URL for that photo shortened so it's appropriate for a tweet.
Even better is that it's quite easy to do.
Let me show you…
Here's a status update box on Twitter. Nothing surprising or particularly exciting:


Click in the input box, however, and it enlarges and – more importantly – two icons show up on the lower left corner:

Click on the camera icon (the other icon lets you add location lat/long information, if you're curious) and a file selection dialog box pops up without much further explanation: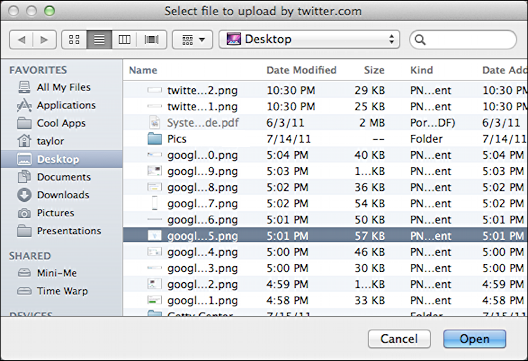 Find the photo or picture you want to share, highlight it, and click on "Open" and it'll not only upload the photo but also show you a tiny thumbnail of what'll be included (good for ensuring you made the right selection) along with the helpful tip "Image will appear as a link":
Now type in whatever witty or interesting message you want to include along with the shortened URL that links to the image, and notice that even before you start typing, you don't have the usual 144 characters but only 119, because it's reserved space for the image URL: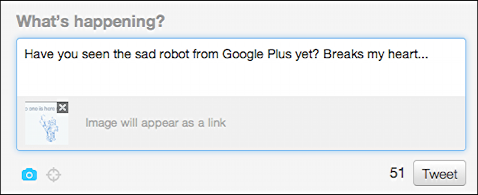 Comment entered? Photo uploaded? Click on 'Tweet" and you've just posted a twitter update that includes a photo, without having to buy a smartphone:

Even better, click on the image URL and it'l not only show the photo or graphic, but Twitter will also show the entire message too: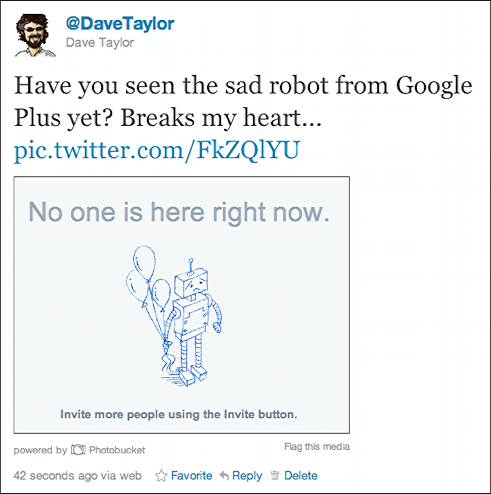 Ah yes, the sad Google robot. Even now it makes me just a bit emotional… 🙂
That's how it's done uploading photos or images to Twitter!