I found an iPod Touch that has been sitting in the closet for about a year and want to update the firmware operating system [ed note: it's actually called "iOS" now]. How do I update my Apple iPod Touch?
Wait a minute! Is it black and has "You're A Winner" etched on the back? I have an iPod Touch I won at a trade show, then lost about a year ago… Hmmm….
Seriously, though, it's pretty easy to update the software on your iPod Touch, iPod Classic or any other iPod device, regardless of how old it is: Just plug it in to a computer running iTunes and once it sees the device, it'll prompt you to update things.
Where this gets a bit complicated is if the device has been paired to another computer, but if you've just found your iPod Touch after a long time, you might not even have the computer that it'd originally been paired with anyway. If you want to get the music and other material off the device before you update it and start over, by the way, check out my article on Copying Music Off Your iPod.
Back? Good. Here's what happened to me when I plugged in my other iPod Touch (you don't want to know how many iPods I have, trust me!) and there was an iOS update in the interim:

Click "Download and Update", but make sure you have some time before you need to shut down your computer: it's going to take a fair while to finish this process.

iTunes will explain what's updated and ask if you want to proceed: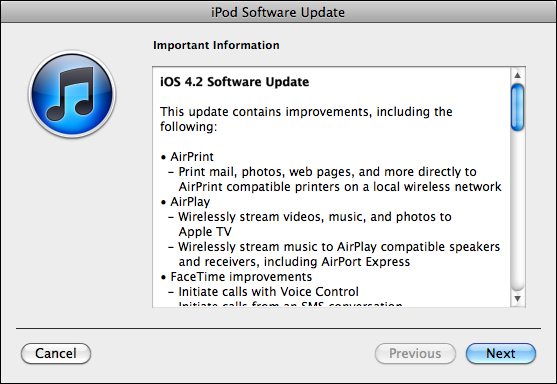 Click on "Next" and so will begin the long download process (well, I suppose its duration will depend on how fast your network connection is. For me it took an inordinately long period of time…)

Eventually the download will finish and the fun begins, all completely automatic within iTunes:

Then…

and then…

And still another step…

Finally you'll have completed the download, unpack, verify, install and restart steps and iTunes will let you know "mission accomplished":

That's all there is to updating your iPod Touch to the latest firmware. This works exactly the same for any iPod too, along with iPhones and iPads, now that I think about it!