I saw that Apple released a new version of the iOS firmware for the iPad and iPad 2 and want to update my iPad to run the latest and greatest. Is there a way I can do that with just an iPad, or do I need to have my computer involved with the iPad update too?
It's always a good idea to run the latest and greatest software on any device you own, whether it's your iPod, iPad or even a Sony PSP, LG TV or Toshiba Blu-Ray player. Bugs are found and fixed, security issues arise, features are added, enhancements are slipped in, and performance is improved. Most vendors keep the reason for the upgrade secret (presumably for security reasons) but I always try to keep the firmware up-to-date on everything I own.
For devices like the iPad or iPod, however, you can't do the update in situ (that is, just with the device itself) but instead need to hook up with a computer because the device can't reboot itself and install a new version of firmware simultaneously. Fortunately, it's pretty easy, though I do have to make the assumption that you've sync'd your iPad with a computer and that's the same computer we'll use for this process.
Plug in your iPad or iPad 2 into your computer and launch iTunes if it doesn't automatically launch. Then click on the device itself on the left side and look closely to the "Summary" information. If there's an update available, you'll see something like this:



To begin the update, click on "Update". Make sure your computer is plugged into the wall too: generally it's a disaster if you have your computer die during an update.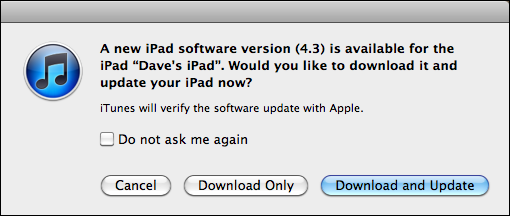 Next step is to click on "Download and Update", then get a cup of tea…


Oops. No tea yet! Always a terrific idea to do a full sync (which we should have done before we started, really. But I know you've already done that so let's proceed). Apparently there are some purchases on the iPad that haven't yet made it onto the computer, so let's not lose them. Click on "Continue".
Once it's done with the sync and new app/content copying, iTunes will start downloading the actual firmware iOS update software:


If you click to the "Download" area, you'll see the download progress:


596MB. That's a hefty download, over a half-gigabyte of shiny newness.
After the download completes the update will begin…


The software package is unpacked and uncompressed, then iTunes verifies it's survived the transit and unpack:



The update itself begins…


After a while (often rather a long while!) the update is done and iTunes automatically restarts the iPad itself:



Once the iPad's rebooted, it reattaches to iTunes and now it should show that the firmware iOS on the device is up to date:


Done. Easy!