I admit it, I don't sync my iPad with my computer very often. Nor do I sync my iPhone, for that matter. Just seems a hassle. On the other hand, when I do, there are tons of updated apps. Isn't there some way to update my applications directly on my iPhone or iPad, Dave?
I know that there are a lot of people who don't do much in the way of syncing, but I have to say it makes me anxious even to read this question. If you lost your iPhone or broke your iPad, how much data would you lose? How many notes? How much purchased music or how many favorite TV shows? Some of it you can recover from the iTunes Store, but for me, it'd be a nightmare to lose a months' worth of iPhone updates.
The good news is that with the latest version of the iOS system, you can actually back up your iPhone or iPad to the cloud automatically and without any wires involved by signing up for and configuring iCloud. Apple has a very good tutorial on how to get started with iCloud.
Secondly, in iTunes, you can configure it so that your iPad or iPhone can sync with your computer via wifi network. Drop your device onto a dock to charge and if your computer's on, it'll automatically sync without you having to think about it. Smart. The configuration option within iTunes looks like this:


In terms of updating your apps, that's a subset of this question, but it's equally simple to do, and, yes, you can do so directly on your device.
Start by finding your "App Store" icon. If it happens to have a numerical badge on it, as I do below, that means that there's 1 application on my iPhone that needs an update:
Tap on the "App Store" to launch it (and just so you know, this process is 100% identical if you're on an iPad. The screen's just bigger. 🙂
Lots of stuff to explore and new apps to check out, but let's stay focused on the app update topic. Notice on the lower right it says "Updates" and the "1" badge is displayed. That's what you want to tap on to see a list of what applications have updates in the iTunes Store, so tap it…
This time, there's only one update, for my Google Music player app
gMusic
. Sometimes you'll not see any numeric badge at all, but when you go to the Updates area there'll be available updates, and sometimes the number will be out of sync, showing 2 updates when there are actually 4 on the list. No big deal.
Here's a trick that most people don't realize, now that we're here. If you're curious about what's changed in the app, you can tap on it and get more information about this particular update. When I do so with this gMusic update, here's what I learn:
Doesn't sound critical, but still, updates are good, right? I can update just this specific app by tapping on the "Update" button, but the better practice is to update everything that's available all at once. To do that, I'll back up by tapping on "Updates" on the top left.
Now I'm back to the previous screen and this time I'm going to tap on the "Update All" button in the top right, producing…
If you have your phone set up to remember your iTunes Store password, you might be able to skip this step, but I'd rather enter my password and know my kids can't just get whatever they want on my iPad or iPhone. Your experience may vary!!
Once I enter my Apple ID Password (aka my iTunes Store account password) and tap "OK" I'll be unceremoniously dumped out of the App Store app and onto the home page of my iOS device: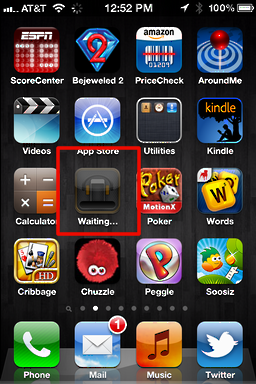 Look closely above, though, and you'll see that the former gMusic icon has been greyed out and says "Waiting…". That means that it's ready to download the update and is waiting to start the transfer with the Apple server.
In a moment or two, it'll switch to:
Once that transfer is done — and if you have a lot of updates, it can be a series of different downloads and transfers — the app icon returns and you now have the updated app on your iPad or iPhone.
That's all there is to it. Once a week or so just go into the App Store application and check for updates. No hassles, no worries.
And in terms of your sync habits? Please, take a few minutes and set up wifi syncing with your computer and iCloud. You'll thank me later!