Okay, so I read your article yesterday on how to subscribe to Science Friday in the latest and greatest, iTunes 11 [see: subscribe to podcast in iTunes 11] but now I'd like to see the other half of the equation: how do you unsubscribe from a podcast?
Glad you're up for learning more about iTunes 11. Turns out that there are a lot of options on how to manage a podcast subscription in the program and since I, quite honestly, never subscribed to podcasts in previous versions of iTunes, I don't know if these features have been introduced in the new version of the program, or whether they've been around forever, but before you decide to unsubscribe from a podcast, it's well worth looking at ways you can stay subscribed but still manage the data storage needs of even the most prolific of programs.
To tie into what we discussed in the previous article, I'll show you how to unsubscribe but I'll also show you what else you can do to manage your iTunes podcast library.
Ready?
First off, once you've subscribed to one or more podcasts, the most recent episodes will automatically be downloaded and, if you've set it up, sync'd to your iOS devices.
On the left sidebar or — in this case — in the Library menu, you'll see "Podcasts" as an option, along with a number that indicates how many new (unlistened) episodes are available: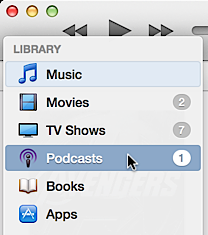 In this case, I have one new episode of
Science Friday
I haven't heard, which I can ascertain by selecting "Podcasts"…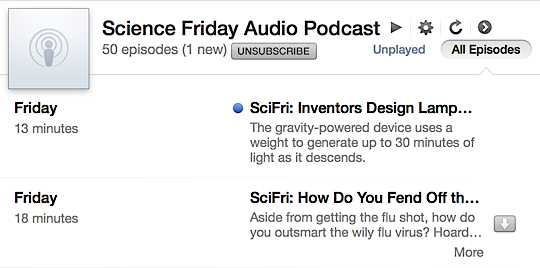 You can see that there's an "Unsubscribe" button, which certainly makes it easy to unsubscribe from a podcast, doesn't it? 🙂
Turns out that there's a lot more you can do, however. Control-click on the podcast's name in the iTunes library to pull up the context menu:



Here again, you can see "Unsubscribe Podcast" as an option, but instead, select "Settings" to see the options you have:


Uncheck the "Use Default Settings" and you'll see that there are some pretty nice options available, particularly with the "Episodes to keep" menu, as shown here:


If you're worried about disk space check out the "Most recent episode" option and you'll know that you'll only have at most one episode in your library. My favorite is actually "Last 2 episodes", which means you always have the most recent episode and one prior. Or you can choose to only save unplayed episodes, so once you listen to it *poof* it disappears!
Or, of course, you can back up and simply unsubscribe. Here's the thing, though: if you just unsubscribe, the episodes that have already been downloaded will stay in your iTunes library, so you'll want to choose "Delete" from the context menu instead. That'll unsubscribe you
and
delete any episodes that might be in your library. Useful!
Now, with these articles on subscribing and unsubscribing from iTunes 11 podcasts, are you ready to make the switch?