I read your earlier article on how to unfriend someone on Facebook, but my Facebook interface doesn't look at all like yours. I think your stuff's just out of date, Dave. Can you update this for the new Facebook 2.0 (2010?) interface? Thanks!
That's a bit curious because as far as I can tell, the approach is basically identical. The changes to Facebook with the latest interface update hasn't really modified much in terms of the step-by-step, but to be safe, let me show you the process again, this time with screen captures taken from the March 2010 Facebook interface.
(aside: I love that we need to specify when we looked at the interface. Facebook sure changes and tweaks things a lot. Am I the only one who gets tired of having to hunt for things and figure out what's where this week?)
Okay! So I'm going to pick on a friend and unfriend her to show you the steps involved…
First, know their name. Then type it into the search box:


That's found her. Click on her name then press Return to make the search…
Now scroll down and look on the left side of their profile page. Some ways down you'll see a bunch of useful options: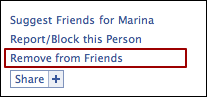 Click on "Remove from Friends" and you'll see a confirmation box: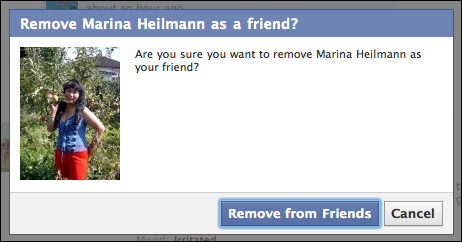 Yup, sorry, you're off the list. Confirm with "Remove from Friends" and it'll refresh their profile page. If it's worked, you'll now see what someone who isn't a friend sees, including the "Add as Friend" button:

That's all there is to it. Hope that's helpful!