I've become a fan of Instagram and really enjoy your pics [nice way to butter me up! You can find me on Instagram by searching for "d1taylor". –DT] but there are some other people that I'm following and would rather not. What's the fast way to unfollow someone on Instagram?
As I said earlier, nice job of shmoozing with me to get your question answered more quickly. It worked! I've only recently been turned on to Instagram, a mobile-based photo sharing app that's quite surprisingly engaging (and was recently purchased by Facebook, so I expect major changes coming down the pipe in the next few months). I blame my daughter: she's the one who got me hooked.
Just like other social networks — including notably Facebook — Instagram has the problem that you don't really know what someone's going to be posting to the photo stream until you've already friended them and become friends.
It's nice to have lots of friends and followers, of course, but sometimes, well, sometimes you realize after you've become connected that you really don't want to see their photos or, worse, "inspirational quotes" on your stream. I'm waiting for politics to invade too, as we get closer to a presidential election here in the USA…
Fortunately it's easy to unfollow someone on Instagram. I'll show you how to do it on the iPhone 4s, but I'm sure it's completely identical for Android users too.
Let's say you're looking at your photo stream and yet another picture comes up from someone you now realize you don't want to follow. Like this: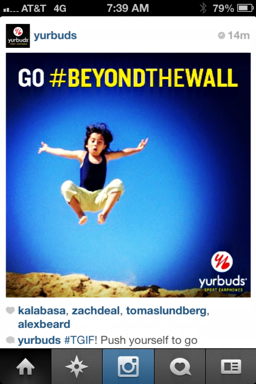 In this case, I'm actually a fan of
yurbuds
, I'm just using them as an example. And, well, I don't like promo graphics showing up in my feed when I am looking for candid photos of people as they travel through their days. To unfollow yurbuds, all I have to do is tap on the account name, and it shows me more info about that account: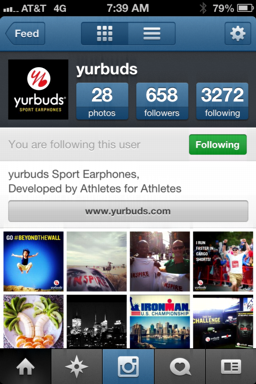 3272 following. That's impressive! But still, when I look at their Instagram stream, I can see that there are promo graphics and marketing info mixed in with their candids. So…
To unfollow someone, simply tap on the green "Following" button about half-way down on the right. It'll then change: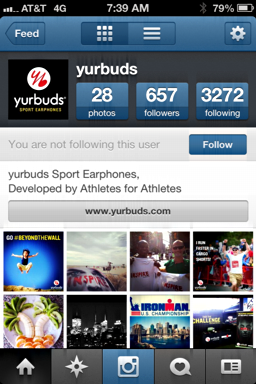 Changed your mind? Tap on "Follow" and they're back in your photo stream.
Easy enough!
And if you, dear reader, do want to see my own Instagram photo stream, just go to "Explore" in the app and search for 'd1taylor' to find me. 🙂